Shaker Music News

Information about publications and updates on this website

---

Help support the preservation mission of this website

Order music collections, broadsides, CDs or DVDs at the

---

Shaker Music News - 2017

"The Best Choice":
A Sampling of American Communal Hymns


"Blended Together":
Interviews with The Shakers

"Simple Gifts":
The Discovery and Popularity of a Shaker Dance Song

"Give Us This Day":
Two Historic American Choral Music Traditions

"May We Ever Be United":
Music of the North Union, Ohio Shakers

Shaker Music News - 2016

This computer disc contains a summary of forty years of research, by Roger Lee Hall, one of the foremost authorities on Shaker music. The survey highlights the entire history of Shaker music from the 1780s to the 1950s. "The Humble Heart" title of this disc is from one of the best known early Shaker hymns, with words by Sister Eunice Wyeth (or Wyethe) and music by Elder Thomas Hammond from the Harvard Shaker community in Massachusetts.

Read more about this computer DVD,

This new CD includes
"Seven Variations on a Shaker Marching Tune"
by Roger Lee Hall

Read more -- click here


Shaker Music News - 2015

"Give Good Gifts"
Shaker Music in the 20th Century
by Roger Lee Hall



A major new collection with articles, music albums and other information compiled and edited by ethnomusicologist, Roger Lee Hall,
an authority on Shaker music who has researched it for over 40 years.
Read more about it,

A new CD of sacred music with arrangements of
two Shaker spirituals from Kentucky

Shaker Music News - 2014

A major new book by Shaker music scholar, Roger Lee Hall,
has been published about the best known Shaker song, "Simple Gifts,"
and it is available on a multimedia DVD disc
with bonus audio and video features.
To read more

A discussion of Shaker music notation and
music types (songs, hymns, anthems)
at this link:

The Simplicity of Shaker Music

Shaker Music News - 2013

New CD:

This CD includes 25 premiere recordings of Shaker melodies and arrangements by Roger Lee Hall and Conrad Held. Read the background about this CD written by Roger Lee Hall, at this link:

Book Review:

Issachar Bates - A Shaker's Journey by Carol Medlicott
Shaker Music News - 2012
New Music Collection Available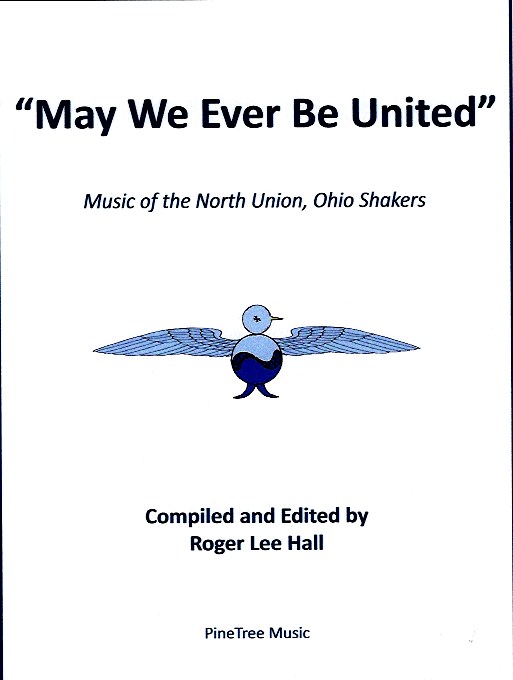 In celebration of the Centennial of Shaker Heights, Ohio, there is a new collection of Shaker music titled:

"May We Ever Be United" - Music of the North Union, Ohio Shakers

Read more about it at: Shaker Books and Articles

"The Earthquake" Remembered
On Sunday, January 22, Roger Hall's arrangement of "The Earthquake," a Shaker hymn by Elder Daniel Moseley about the famous earthquke in New Madred, Missouri from December, 1811 to February, 1812, was performed by the Saint Louis Sacred Harp Singers as part of "Earthquake Sunday" at the Bolduc House Museum in Ste. Genevieve, Missouri.

A simple arrangement of Elder Daniel's hymn, "The Earthquake," was made by Roger Hall and published in Six Shaker Spirituals (PineTree Music, 2001). It was revised for piano and voice in 2011 and that version is available at no charge, providing full credit is given if it is performed anywhere.

For a free copy of this hymn arrangement, send your name and mailing address to:

"The Earthquake" hymn arrangement


These are the five verses for "The Earthquake" -

1.
Lift your heads ye once afflicted!
Let your eyes with joy behold,
What the prophets long predicted,
What the Son of God foretold.
Now Jehovah fills his temple,
Thence his glory shines abroad;
There his saints with reverence tremble,
And confess that he is God.

2.
Sacrifices of thanksgiving,
To his courts they daily bring;
Songs of joy among the living,
Make his sacred temple ring.
Through the ranks of vast creation,
Nothing can be deaf or dumb,
All must give their approbation,
That the day of God is come.

3.
While his last call he utters,
Nature can no more be still;
All creation moves and flutters,
In obedience to his will.
When his power is to be proved,
To convince the stupid soul,
If he says, "O earth, be moved!"
Lo, it rocks from pole to pole.

4.
While the judgment is advancing,
Satan's kingdom to destroy,
Fields and forests fall to dancing,
Dwelling houses crack for joy;
Rivers heave and swell like Jordan,
Water fowls ascend the air;
Soon this earth shall loose her burden,
All creation does declare.

5.
God will shake this old creation,
Rocks and mountains overturn,
Fill the world with consternation,
Till the way of truth they learn.
Those who will not be restored,
Sink to their respective hells;
But our God shall be adored,
In his temple where he dwells.

-- Elder Daniel Moseley, Union Village, Ohio, 1811

Visit the historic Bolduc House Museum web site, click here.

Read about the New Madrid earthquake at Wikipedia.

"Reflections On Mother Ann's Birthday"

She was known as Mother Ann Lee and was born on Toad Lane [now Todd Street] in Manchester England on February 29, 1736.

In 1774, she emigrated to America with a few of her followers and eventually settled in a place known as Niskayuna, near Albany, New York. After suffering extreme persecution on her missionary journey throughout New England, she died at the age of only 48 at Watervliet, New York in 1784.

Mother Ann's life and missionary work in New England is vividly told in Richard McNemar's powerfuk ballad hymn, "Mother" (aka: "At Manchester in England") -- available on two different CDs:
Love is Little and Simple Gifts.

Mother Ann made extensive missionary travels throughout New England in the early 1780s. In one Massachusetts town she and other Shaker leaders were punished severely and beaten for their beliefs. Though they were severely punished, one of the Shaker leaders overcame that pubishment by singing a song in redemption, known as Father James's Song.

Mother Ann was said to be a good singer. Numerous songs and hymns were written in praise of her by later Shakers. One of them was the Shaker hymn which begins:

All hail the great Millennium!
Which thousands long'd to see;
Which ancients prophesi'd would come,
A Glorious Liberty!
The light of truth rolls brightly on
as doth the Orb of day;
Behold! the new Jerusalem,
The new and living way.

This hymn was written in 1840 by Brother David A. Buckingham at the Shaker community in Watervliet, New York.

Titled "Reflections on Mother Ann's Birthday," it has six stanzas. This hymn was first printed in a modern edition by Roger Hall in 1986, published in The Shaker Messenger magazine (Shaker Music Series No. 19).

Brother David's hymn has been recorded on the CD, Verdant Groves, in an arrangement by Shelley Phillips and sung beautifully by Debra Spencer.

Here is the sixth and last stanza which speaks directly about Mother Ann:

While we enjoy this day of grace,
How can we but adore
Our blessed Mother - and embrace,
And love her evermore!
O may her blessings still abound;
O may we holy be;
May we in righteousness be found,
In low humility.

"Reflections on Mother Ann's Birthday" is available in a simple two-part arrangement by Roger Hall.

Other Shaker spirituals about Mother Ann are available on these two CDs:

Joy of Angels: Shaker Spirituals for Christmas and the New Year

Love is Little: A Sampling of Shaker Spirituals

For more information about these CDs and the accompanying songbooks, go to: Sampler Records Ltd.

Shaker Music News - 2011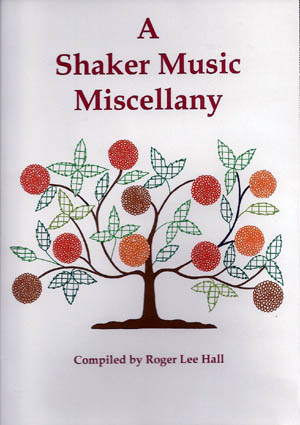 Deluxe DVD:
A Shaker Music Miscellany
Two Bicentennial Anniversaries

"The Earthquake"

This year marks the 200th anniversary of this powerful hymn by Elder Daniel Moseley from the Shaker community of Union Village, Ohio.

He wrote the hymn about the famous disturbance which had ocurred in New Madrid, Missouri in December of 1811 and continued on into the next year, and was felt hundreds of miles away, including at the Shaker community in Union Village, Ohio. Elder Daniel titled it after that terrible natural disaster.

Because of his intense devotion, he called himself -- "God's Battle Axe." He was born in Norwich, Connecticut in 1760 and received his calling from Mother Ann Lee herself.

One Shaker sister said of him,

"What Elder Daniel Moseley did he did with his might. In addition to doing much good to other souls, he worked for many years as a blacksmith...he retained something of the boy, the big hearted, good hearted boy, ever ready and feeling himself sufficient for any undertaking to oblige and help along, either in a temporal or spiritual direction."

Another Shaker sister wrote about how this hymn was composed:

"Sister Clarissa Patterson tells me this morning March 12th 1877 that the following hymn was composed by Elder Daniel Moseley in the year 1811 during a time of earthquake shocks which greatly alarmed him and moved by the impulse of fear or by the power of Inspiration more likely, he went to each family in the village singing his song and preaching in accordance with the views which his lines illustrate."

--above information from The Shaker Spiritual (Dover Publications, 2000) by Daniel W. Patterson.

The five verses of "The Earthquake" were printed in the first Shaker hymnal, Millennial Praises, in 1812-13.

An instrumental arrangement of "The Earthquake" by Barry Phillips and William Coulter is available on the Gourd Music CD, Tree of Life.

"Willow Tree"

The other bicentennial anniversary is for the birth year of a Shaker composer and compiler, Sister Mary Hazard (1811-1899) from the Shaker community at New Lebanon, New York. Probably her best known Shaker song is titled, "Willow Tree" and the complete words to the song are as follows:

I will bow and be simple,
I will bow and be free
I will bow and be humble
Yea bow like the willow tree.
I will bow this is the token,
I will wear the easy yoke,
I will bow and broken,
Yea I'll fall upon the rock.

This lovely Shaker humility song has similar opening words to the best known Shaker song, "Simple Gifts."

Most people know this song thanks to its appearance in The Gift to be Simple: Songs, Dances and Rituals of the American Shakers, by Edward Deming Andrews.

For some strange reason Andrews wrote this about one word of the song:

"In Shaker speech, 'yea' is pronounced 'ye' (as in greet)."

Andrews gives no evidence to back up this claim.

Modern Shakers have always pronounced "yea" as in "say," and not pronounced it as "ye."

So if you're going to perform or record this beautiful song, please respect the Shaker tradition and pronounce the word as it is spelled: "yea" not "ye."

It appears that Sister Mary Hazard wrote the song during the early 1840s but the exact date is uncertain.


Shaker Music News - 2010
Not Giving Credit Where It Is Due
Some publishers fail to include proper credit in their CDs and books.

For example, on two CDs performed by The Tudor Choir, Gentle Words and Simple Gifts, in both cases the individual Shaker tunes have not been credited to the music editors: Edward D. Andrews, Roger L. Hall and Daniel W. Patterson. This is a common error among those who assume because the tunes are public domain there is no need to credit the editors. That is false. The editors have transcribed these Shaker tunes (often in Shaker "letteral" notation) and made then available in performing editions. These editors should be credited for their work.

Another example is the book titled, Chosen Faith, Chosen Land: The Untold Story of America's 21st-Century Shakers by Jeannine Lauber (Down East Books, 2009). There is a two page description of "Simple Gifts" by Elder Joseph Brackett Jr. on pages 122-23. On page 123, there is a small color picture of American composer, Aaron Copland meeting Sister Mildred Barker in 1974. There are numerous errors in the caption for this picture.

First, Copland's name is misspelled as "Copeland." Next, The Shakers were NOT invited to attend a birthday party for Copland as the caption indicates. They met at a university librarian's home thanks to the special arrangements made by Shaker scholar, Roger Lee Hall. And third, there is no credit given to photographer, Gail Hall, who took this historic picture in Shaker Heights, Ohio:


© Gail Hall, 1974


Read the story about this historic meeting as told by the person who arranged it at:

Aaron Copland Meets The Shakers
Christmas at Canterbury
There was a special celebration at Canterbury Shaker Village in New Hampshire on two Saturdays, December 4 and 11, 2010.


The festivities included craft demonstrations, a 19th century magic show, and
a special Christmas music concert by the Canterbury Shaker Singers, directed by Kathy Southworth, which featured the premieres of two Shaker Christmas arrangements by Roger Lee Hall,"Celestial Choir" and "The Prince of Peace," written especially for the occasion.

Most of the Shaker Christmas spirituals in the concert
were from this CD and songbook:

JOY OF ANGELS: Shaker Spirituals for Christmas and the New Year

Read the description by Sister Elmina Phillips of

Christmas Music Among the Shakers in the Olden Time


The first Canterbury Shaker museum exhibit in 1960 is discussed at

Interpreting the Shakers: Opening the Villages to the Public, 1955-1965

Anniversaries

"Come life, Shaker life"

One of the most popular Shaker songs has been "Come Life, Shaker Life", a dance song composed by Elder Issachar Bates in 1835, the same year that NEW BRITAIN
("Amazing Grace") was published in The Southern Harmony.

This year marks the 175th anniversary of "Come Life, Shaker Life." In addition to this Shaker dance song, several other spirituals by Elder Issachar Bates (the first prominent Shaker tunesmith) have been recorded, including the ballad hymn mentioning George Washington and titled "Rights of Conscience"; the hymn with defiant words by Richard Pelham titled, "Ode to Contentment"; and the powerful anthem, "Mount Zion," all available on this CD: Gentle Words - A Shaker Music Sampler.

"Tis the gift to be simple"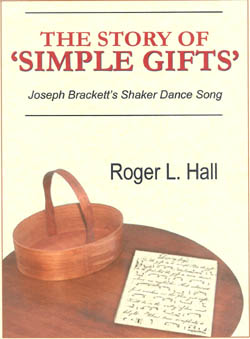 This year marks the 30th anniversary of the first detailed article about this most famous of all Shaker songs, "Simple Gifts" (or 'Tis the gift to be simple). It was written by Roger L. Hall in 1980. The article along with some additional material was published in a small booklet in 1987. Ten years later it was expanded in a new publication and reprinted. Then, in 2006, a book was published available.
The book has now been revised and included on a DVD with audio and video bonus features and is available exclusively through this web site. To read more about it, click on this link to
"On The Landing of Mother Ann in America"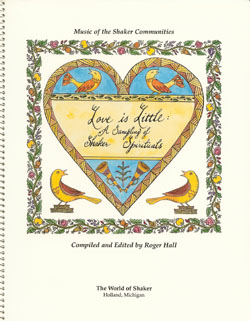 The most important anniversary celebrated each year by the Shakers is the arrival of Mother Ann Lee and a small number of Believers in America.

They left Liverpool, England in May and arrived in New York City on August 6, 1774. This is a very important date because it signifies the beginning of the Shaker Church in America. The event was often celebrated with special new songs and hymns.

One of these is a ballad hymn titled, "On the Landing of Mother Ann in America," and had four verses.

This is the first verse:

O hail this happy welcome day,
When blessed Mother Ann
First landed in America
With her devoted band.
How did the wilderness resound
With Angel's songs of praise
When they on fair Columbia's ground
The gospel standard raised.

Chorus:
Again let the forest loudly resound,
Dear Children of Mother;
Her beautiful way our Spirits have found,
Surpassing all others.

This year marks the 150th anniversary of this ballad hymn, written at North Union (today Shaker Heights, Ohio) just before the outbreak of the Civil War in 1860.

It was published in a performing edition prepared by Roger Hall and sung by The Sampler Singers on the CD, Love is Little: A Sampling of Shaker Spirituals.


Shaker Music News - 2009

Lecture-Recital

On Saturday, August 15, 2009, Roger Lee Hall was keynote speaker in the Scott Swank Lecture Series at the Canterbury Shaker Village museum. He played a few of the songs from his new publication, Gentle Words: Shaker Music in the 20th Century , and rare field recordings of Canterbury Shaker singers from the accompanying CD.

He also sang what is believed to be the last Canterbury Shaker song, "My Shaker Home," written in 1959 by Sister Lillian Phelps. It was performed for the FIRST TIME in a public program at the Canterbury Shaker Village lecture-recital.

New Publication and CD

Available now is an attractive illustrated book which includes a history of their music written by a Shaker sister, an interview with two Canterbury Shakers, and the lyrics to 25 representative Shaker songs, hymns and anthems, including the best known Shaker song, "Simple Gifts."

Read more at

Also available is the accompanying CD, Gentle Words: A Shaker Music Sampler, with the 25 Shaker spirituals, including several versions of "Simple Gifts." To read more, go to:

Book Review

Millennial Praises: A Shaker Hymnal

New music for the New U.S. President

A new piece by film composer John Williams, titled, "Air and Simple Gifts," was premiered during the Inauguration Day ceremonies for U.S. President Barack Obama on 20 January 2009. Read about the Shaker tune which John Williams used and also about the Shaker elder who wrote the tune at:

Joseph Brackett's "Simple Gifts"


Shaker Music News - 2008

Shaker Music History

A new addition to this site is "The Simple Gifts of Shaker Music in America."

The pages trace the evolution of Shaker music from the 18th to 21st centuries.

To read the description on three parts (18th, 19th, 20th and 21st centuries), go to:


Shaker Music News - 2007

Look in the 2007 issue of Chase's Calendar of Events , under May 6 for this item:

Elder Joseph Brackett Day

"Day honoring the Shaker religious leader, born May 6, 1797, in Cumberland, ME. In 1848, he composed the popular Shaker song, 'Simple Gifts,' (also known as 'Tis the Gift To Be Simple'), while at the Shaker Community in Alfred, ME. This Shaker dance song became known worldwide after Aaron Copland used it in his score for the ballet 'Appalachian Spring' in 1944. Elder Joseph Brackett died at New Gloucester, ME, July 4, 1882."

See also this entry in Wikipedia about

Shaker Images:
A Contemporary Adventure Into the Past

by Gwyneth Walker

The following article is reprinted from
The New England Organist
(November/December 1994)

In 1992 I responded to a call-for-scores announcement in the newsletter of the Vermont Composers's Consortium. This was a request by the Constitution Brass Quintet of Vermont for music written by Vermont composers. Since I had previously composed several short works for brass, and was eager to collaborate with the Constitution Brass Quintet, I submitted scores and tapes.

Almost immediately, I was contacted by Ben Edwards, trombonist in the ensemble, initiating discussion of a commission -- fee, duration of work, date of completion, exclusive performance rights by the players, etc. Once these terms were settled, the Quintet applied for and received funding from the Vermont Community Foundation (commission fee), the Vermont Music Teachers' Association (additional commission and performance assistance) and the Vermont Council on the Arts (Artist Development Grant -- audio recording fee). And I began to consider the nature of the work I would be creating.

I decided upon a suite of movements based on songs of the Shakers -- the religious sect which thrived in the Northeastern United States during the 18th and 19th centuries. These were colorful, beautiful and even humorous songs which ought to lend themselves well to contemporary adaptations. I had done similar 'updating' of Baptist hymns in my Braintree Quintet for woodwinds (with audience singing) which had proven very popular. Thus I was encouraged in my Shaker 'venture'.

Although I was familiar with a few Shaker melodies such as "Simple Gifts" and "I Will Bow and Be Simple", I knew that research into the wider body of Shaker tunes was my next step. And thus I contacted the staff of the Shaker Museum in Enfield, New Hampshire. Song books and cassettes were ordered and received. Help was also provided by a Norwich, Vermont choral director specializing in Shaker music, Mary Ann Wilde. Ms. Wilde sent me handwritten copies of several of the melodies not found in the song books.

I listened to and read through many Shaker tunes in order to select five songs which offered a variety of moods and sentiments. Since I am a composer who values energy, beauty, humor, spirituality, and familiarity of the music, I selected the following tunes: "Welcome, Welcome Precious Gospel Kindred" (energy); "I Will Bow and Be Simple" (beauty); "Followers of the Lamb" (humor); "I Never Did Believe" (spirituality); and "Simple Gifts" (familiarity).

I should emphasize that the Constitution Brass Quintet placed no restrictions upon the content of the newly-commissioned work. They had liked my previous brass writing, and simply let me create what I felt would be a good work for them. My suggestion of the Shaker Tunes led to a positive response from the players, perhaps mixed with some bafflement as to what exactly I would be writing! And indeed, they would need to wait for nearly a year until the total concept was brought to reality. This project evolved into a long-term work-in-progress, a collaboration of composer, brass players, singers, choir directors and Shaker music scholars.

Most composers work from the general to the specific. And this was the case in my writing. I planned the overall suite -- the ordering of the songs, the tonalities involved, general style of each movement, continuity as well as variety of the tunes, durations of each movement, duration of the whole -- before beginning to place notes on the page. Once I had the broad concept formed, I began my writing.

Since I had several other commissions ongoing (a string quartet, two choral works), the brass music would be done in installments. And this would allow for ample time to confer with the players and to incorporate their suggestions (mostly technical and idiomatic) into the score.

I began with the "Welcome" song which I composed in June, 1993. The premiere was given in early July, and although I was not able to attend the actual performance (the string quartet was also premiered the same week in a distant locale!), I worked with the players in several rehearsals. Audience reaction to the new music was very enthusiastic, and the players were pleased with the first 'installment' of their commission. This encouraged me to work on the Shaker Tunes as much as possible. And there was not much time to wait, since we were scheduled to present the first three movements at the Quad-State Music Teachers' Association Conference in Plymouth, NH in October, 1993.

I explained to the Constitution Brass Quintet that my concept for the Shaker Tunes included audience (or choir) singing of the original Shaker melodies preceding each of the brass variations. This would not only involve the audience in the performance, and be enjoyable for anyone who likes to sing (!), but would also lend some historical authenticity to the process of combining the past with the present.

Thus, I copied out the melodies and distributed them to the music teachers at the Conference. The premiere of the first three movements involved audience singing of each song -- "Welcome", "I Will Bow and Be Simple", and "Followers of the Lamb" -- followed by my contemporary brass settings.

This 'second installment' premiere worked beautifully and showed the players and the composer that the singing integrated well with the brass music. The music teachers were enthusiastic singers (!), and their joy 'infected' the playing. Moreover, the one humorous movement, "Followers of the Lamb", (complete with tuba cadenza) was met with unanimous laughter. Only live concert experience will serve as a test of this element of music!

The first three movements were completed. In response to audience questions about the background of the individual Shaker songs, I located a scholar of Shaker music, Roger Hall. Roger has compiled, transcribed and researched Shaker melodies, and published numerous books and articles about this music. Anyone doing research into Shaker music, or even attempting to create contemporary arrangements, would find him an invaluable resource. With Roger's help, I was able to provide dates and locations of the origins of the melodies I had selected for my suite. And I have continued to contact Roger with additional questions concerning the background of my material.

Movements IV and V, "I Never Did Believe" and "Simple Gifts", were completed during the Winter of 1993-4 in preparation for an April 1994 premiere of the entire set of Shaker Tunes in Warren, VT. Several rehearsals were spent fine-tuning the music. Once again, I listened to the suggestions of the players and incorporated their ideas (articulation, refinements of tempi) into the score.

The location of the concert would be the Warren United Church, a lovely historic site, ideal for Shaker music! Thus, I asked the choir director, Virginia Roth, if her choir might be available to sing each of the Shaker melodies before the playing of the brass adaptations. She responded with enthusiasm and was able to assemble and rehearse a group of 8 singers. With considerable care, I created simple SATB a cappella arrangements of the melodies. The goal was sparse-yet-graceful choral settings that would introduce the songs with beauty while not detracting from the far more adventurous brass adaptations to follow.

The premiere of all five movements, with singing, was extremely successful. The small choir was able to master the SATB arrangements in one rehearsal, and performed with confidence and fine singing. The audience was encouraged to sing along with the choir on the refrains of the songs, which they did easily. And the ensuing brass music followed immediately on the closing notes of each song.

The creation of the Shaker Tunes for brass quintet spanned a year. At several stages, revisions were made according to live performance evaluations. Attention was given not only to the brass writing, but also to refining the choral arrangements to the point where they could be performed comfortably by a small choir of average singers.

The completed work adds up to about 1/2 hour of music, with 20 minutes of brass music and 10 minutes of singing. This has been used often as the second half of a concert program. The intended audience spans all ages and all levels of musical sophistication.

The reaction of many of the choir directors has been that this music can and has been used with a worship service. Certainly, the choir can sing the a cappella arrangements as they wish. However, the singing followed by the brass playing is also suited to sacred use. The "Welcome" song makes a lively prelude, while "I Will Bow and Be Simple" and "I Never Did Believe" can be performed as anthem and offertory. And "Simple Gifts", with congregation singing followed by the rousing brass adaptation, might be a festive postlude. This is music from the American sacred tradition. The tunes are rough-hewn and direct. The brass music is lively and clean.

I have enjoyed my year spent creating the Shaker Tunes for brass quintet. What started out as a 'generic' commission for brass quintet led to a project which incorporated singing and Shaker music. It provided music which is equally suited to concert hall and church presentations. And although brass quintets are often brought into churches for special occasions, they do not usually perform American music from the 'folk' tradition, as the Shaker music is often considered. Thus, the Shaker Tunes are somewhat unique to the repertoire.

The process of arranging pre-existing musical material is of interest to me, although I do not specialize in this genre. Most of my works are newly-composed. Yet the idea of taking musical ideas from the past and looking at them in a contemporary was is intriguing.

There are many approaches to creating arrangements, and these range from rather straightforward transcriptions to idiosyncratic 'departures', in the manner of Charles Ives. I tend towards the latter. This is not by choice so much as by personality. I find it impossible to 'represent' what has gone before. And I seem to find humor and character hiding behind almost any musical gesture!

Thus, it is my inclination and pleasure to search out what I feel to be the essence and the charm of each song and then try to enhance these traits through new adaptations. For this reason, I prefer to describe these contributions as 'updated versions' rather than arrangements. I shall explain.

The opening "Welcome" song is a joyful song of greeting which makes the listener feel welcome through the repetition of the word 'welcome' in a bouncy 6/8 meter. I envisioned the Shakers welcoming new members to their community with waving of hands and leaps of joy. Therefore, in the brass version, while the melody is given to the horn, the trumpets answer with 'welcome' (2-note) patterns initiated by grace notes to signify the group waving and shouting "welcome!" Later the trumpets flutter-tongue (i.e., 'wave') impishly. The 'leaping for joy' may be heard in the 'jumping' tripled counter rhythms recurrent in this movement.

In contrast, "I Will Bow and Be Simple" is a song of sparse beauty. The melody is presented first as a solo by trumpet I, then a duet between the two trumpets. Allowing this music to unfold slowly seemed the most appropriate approach. And the implicit harmonization of the tune, which reaches the lowered Mediant (Gb in the key of Eb major) near the end, is emphasized in the brass version by an entire middle section created in that tonality. The music ends with the tuba alone on a high Eb (Eb1) as the other instruments fade away. I felt that the ending should portray the same 'solitary beauty' as the opening, perhaps with the heighted poignancy of an instrument stranded at the limits of its range.

"Simple Gifts" presented a challenge in finding a new interpretation, since so many fine arrangements already exist. I settled upon a rhapsodic approach for the opening leading into a very lively presentation, with occasional jazz elements interspersed. The tune shifts among the instruments, but is nearly always present in one form or another (as requested by my brass players!). I have always considered"Simple Gifts" as a quintessentially 'American' song, and the brash rhythms and open harmonies which I selected aim to enhance this quality.

The Shaker Tunes for brass quintet may be viewed as character pieces based on Shaker melodies. Liberties are taken with the original songs. But the tunes are truly loved and enjoyed! The goal was to create new music for brass quintet -- both entertaining and sincere -- which might bring renewed life and attention to the Shaker music of the past.
Read the original article online at the composer's web site


Shaker Music News - 2006

Shaker Music Scholar Named to Who's Who Directory

Roger Lee Hall, a longtime enthnomusicologist and singer, has been named to the prestigious volume, Who's Who in the World. To read more about his extensive music research, go to this link:

Shaker music scholar and singer

Related Links
Aaron Copland Meets The Shakers

American Music Recordings Collection -- Shaker tunes and interviews.

CD and DVD Releases -- list of original and arranged Shaker tunes.

Joseph Brackett's 'Simple Gifts' -- about the best known Shaker song.

Shaker Music History -- highlights from 18th to 21st centuries.

Shaker Music Lectures and Workshops -- programs about Shaker music.

Shaker Music in Our Time -- about the music and other related news.
---
Help support the preservation mission of this website
Order music collections, broadsides, CDs or DVDs at the
---