.

From the Center for American Music Preservation
The largest Online resource for
music of the American Shakers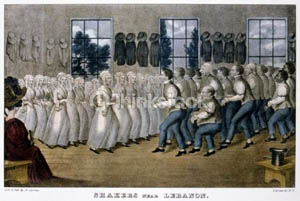 Two CDs
which have received rave comments!
They would make ideal gifts for any music lover.

Read about this CD and hear sample music

click here

This CD features 38 Shaker spirituals and is the only one devoted to music for Christmas and the New Year, many of them recorded for the first time anywhere. The featured performers are: Randy Folger, Colleen Liggett, Kathy Leigh Johnson, Mitzie Collins, The Eastman Bach Children's Chorus, and The Sampler Chorus. The CD title is taken from the Shaker Christmas hymn:
"Hail, hail the beautiful morn" by Sister Elmina Phillips from North Union, Ohio. Introduction and notes by Shaker music scholar, Roger Hall.
For more information about this CD -- click here

Latest news about the
ethnomusicologist and composer,
Roger L. Hall,
who has researched and written about
Shaker music for over 40 years...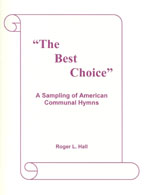 Roger Hall presented a paper titled,
"Heavenly Music": Evolution of communal singing at Kirkland, North Union and Zoar
at the Communal Studies Association Annual Conference,
held in Zoar, Ohio, October 5-7, 2017.

To listen to the Shaker song, "Hevenly Music,"
edited by Roger Hall and available on the Sampler CD,
"Joy of Angels" -- click here
The "Heavenly Music" paper is now available
with music examples and sources on this DVD-ROM:
"The Best Choice" - A Sampling of American Communal Hymns
To read about this DVD-ROM -- click here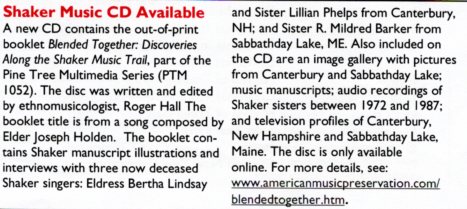 Blended Together: Interviews with The Shakers



"Invitation to Zion":
A Shaker Music Guide
(with recorded music examples)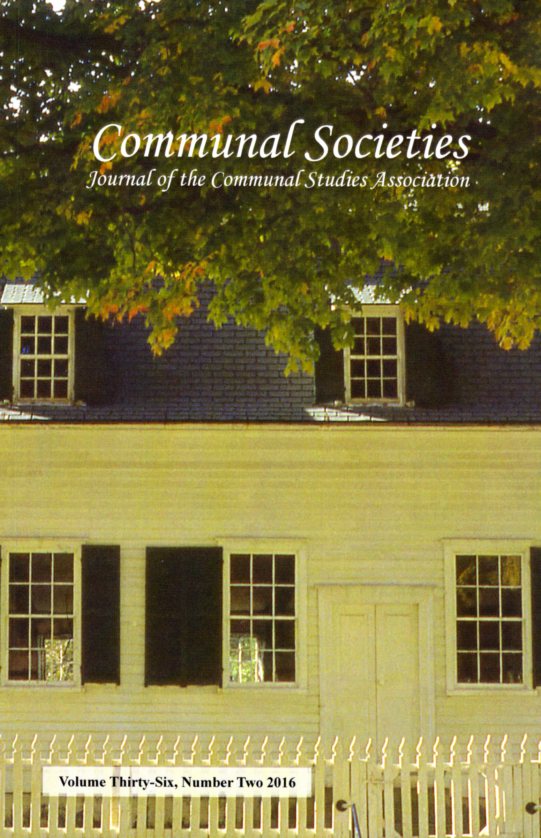 Communal Societies Article --
"Simple Gifts": The Discovery and Popularity of a Shaker Dance Song
(Cover picture by Gail Hall)



Shaker music in our time
Too many people know too little about music of the American Shakers (also known as: The United Society of Shakers).

Many people know and enjoy the best known Shaker song titled "Simple Gifts" (aka: 'Tis the gift to be simple).

But only a small number of researchers and musicians have bothered to investigate further any other Shaker music omposed from the 18th, 19th and 20th centuries.

There has been too much emphasis on the first book about Shaker music by Edward Deming Andrews, first published in 1940 (reprinted in 1962 and 1967). Much research has been done since that book was published.

The United Society of Believers in Christ's Second Appearing (better known as the Shakers), originated in the area around Manchester, England and was led by Mother Ann Lee, who emigrated to the USA and she and her few follwers landed in New York City on August 6, 1774. Two years later, their first settlement was b egun at Niskayuna (later: Watervleit), New York. Their first organized Shaker community was in 1787 at New Lebanon, New York.

The trials and tribultations of the early Shakers would make a compelling dramatic film or play and their early music would be an added asset. Many of the early Shaker songs were composed by their leaders, such as "Mother Ann's Song" and "Father James's Song" and both are included on the Sampler CD, "Love is Little" - A Sampling of Shaker Spirituals.


The last remaining Shaker community is located at Sabbathday Lake, Maine which has a museum and research library (open by appointment).

The Shaker music information on this site was written by Roger Lee Hall, an ethnomusicologist, composer and singer. He is one of the foremost authorities on Shaker music. Read about his extensive work with Shaker music -- click here


For over two centuries, the Shakers have produced an amazing amount of music estimated to be well over 10,000 tunes and texts in manuscripts and over 2,000 tunes in their printed hymnals.

One of the most glaring errors made by researchers and writers is classifying all Shaker music as "songs."

There are actually three main types of Shaker music:

--single verse songs (for example, "Simple Gifts")
--multi-verse hymns (for example, "The Humble Heart")
--through-composed or prose anthems (for example, "Millennial Praise")

There are also many sub-categories of Shaker music, such as: gift songs, dance songs, inspirational and Gospel hymns, millennial anthems, and others.

Because of their highly inspirational origins, like the Negro or Afro-American spirituals, Shaker tunes are best classified together as Shaker or White spirituals.

Since it is mostly religious folk music, Shaker tunes are often thought to be by unknown composers. Not true!

Many of the Shaker spirituals are credited to Shaker brethren and sisters and sometimes both are credited for a single Shaker spiritual, such as the beautiful early Shaker hymn, "The Humble Heart," from the Harvard Shaker community in Massachusetts. Read more about the importnt hymn on this multi-media DVD:

Often the discussion of Shaker music is misleading or incomplete in books and articles, including those published by university presses, who fail to list available recordings and don't always identify the latest Shaker music research.

It is common to identify all Shaker music as being "Traditional." That is inaccurate since many Shaker spirituals have been credited to a Shaker member. One example is the late 19th century song, "Give Good Gifts" by Sister Martha Jane Anderson.
Up until fairly recently this song was called a hymn and identified only as "Traditional."

Their earliest music came from an English folk song tradition. Their first church leaders also wrote songs, like Mother Ann Lee, the spiritual head of their church. Father James Whittaker wrote what is believed to be the first complete Shaker song with words and music in 1787: "Father James's Song (aka: In Yonder Valley)."

Sometimes a Shaker song is arranged by a non-Shaker musician. One of the best known Shaker quick dance songs is
"Come Life, Shaker Life". In the late 1960s this Shaker song was arranged as a folk-rock song, "Run, Shaker Life" by Richie Havens, without credit given to the original Shaker dance song or to its composer, Issachar Bates.

The same lack of credit for a Shaker composer is true for the best known Shaker song. It was sung or played at three inauguration ceremonies for U.S. Presidents: Ronald Reagan, Bill Clinton, and Barack Obama. Titled, "Simple Gifts." it was composed in 1848 by Elder Joseph Brackett Jr. Often this song is identified with incorrect titles such as: "The Gift to be Simple" or "Tis a Gift to be Simple," which were never used when this song was sung in the 19th century. There have been numerous recorded arrangements of "Simple Gifts" for example: Judy Collins, Aaron Copland, Roger Lee Hall, John Williams, and others. There was also a popular folk song, "Lord of the Dance," by English songwriter, Sydney Carter, which is based on the "Simple Gifts" melody. For more about this Shaker dance song -- click here

There's enough material available that colleges or universities could spend a whole semester discussing Shaker music and its connections to American culture in general. For consultation about using Shaker music in the classroom -- click here

Almost all of the early Shaker music was in alphabet music notation, what they called "letteral notation" [shown in the above example]. It is necessary to transcribe their tunes from this notation into conventional music notation. For more about Shaker music notation, see this publication: "Invitation to Zion" - A Shaker Music Guide by Roger L. Hall -- click here


Giving Credit Where It Is Due

Some writers and musicians have failed to give proper credit to the those who have editd Shaker tunes.

Two of the most active music researchers and editors of Shaker music have been Roger L. Hall and Daniel W. Patterson. Both have published an extensive amount of Shaker music and Hall has also performed Shaker music in concerts and composed new music based on Shaker texts.

Others who have edited Shaker music include:
Anne Azema, Donald Christenson, Joel Cohen, Milzie Collins, Randy Folger, Christian Goodwillie, Mary Ann Haagen,
Carol Medlicott, Donna Phillips.

It is best to credit the editors of Shaker music, and if none are mentioned, then the published title of a book or music collection.




Please Note:

All the information provided on this website is copyrighted.

Should you wish to publish any original illustrations or information Online,
please give credit to this site: American Music Preservation.com

To write for permission to reproduce any pictures or music for commercial publication -- click here



Shaker Music Triptych

A major resource series on computer discs



No. 1: "The Humble Heart" -
A Forty Year Survey of Shaker Music


No. 2: "Give Good Gifts"
Shaker Music in the 20th Century


No. 3: "SIMPLE GIFTS"
Great American Folk Song


Shaker Music Scholar Honored in Who's Who

Roger Lee Hall, the distinguished ethnomusicologist and American music preservationist and one of the leading authorities on Shaker music, has received the high honor of being listed in two highly regarded directories:

Who's Who in America and Who's Who in the World

To read about his extensive music research -- click here

See also his music lectures and workshops -- click here

New information




"A Prayer for the Captive"
A Civil War era hymn
sung in memory of
President Abraham Lincoln




Shaker Song Broadsides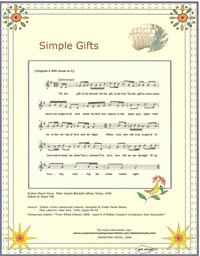 A series of attractive 8 1/2 X 11 broadsides in full color.
This series includes
the words and/or music to selected Shaker songs,
edited by Roger Hall,
with colorful art design by Gail Hall.

They make ideal gifts and are suitable for framing.
There are currently Shaker song broadsides in this series:
No. 1: "Simple Gifts" (Elder Joseph Brackett Jr., Alfred, Maine, 1848)
First line: 'Tis the gift to be simple 'tis the gift to be free
No. 2: "Blended Together" (Elder Joseph Holden, Mt. Lebanon, New York, ca. 1870)
First line: Blended together as one we stand

No. 3: "Love is Little" (South Union, Kentucky, ca. 1834)
First line: Love is little, love is low
No. 4: "May I Softly Walk" (Mt. Lebanon, New York, 1869)
First line: May I softly walk and wisely speak
No. 5: "My Shaker Home" (Sister Lillian Phelps, Canterbury, NH, 1959)
First line: Away from earth's turmoil and cares

No. 6: "Welcome, Welcome" (Enfield, New Hampshire, 1869)
First line: Welcome, welcome precious gospel kindred
No. 7: "We Will All Go Home With You" (Canterbury, New Hampshire, 1862)
First line: We will all go home with you, home to worlds of glory

To order any of these colorful broadsides,
go to the

Original Shaker Music Recordings
Contrary to what many writers have written, Shaker music is not all anonymous or "traditional."

In fact, a large number of their songs, hymns and anthems are credited to Shaker authors and composers. Many Shaker spirituals were written by a Shaker sister or brother, who wrote the words and/or the music.

For example these Shaker spirituals...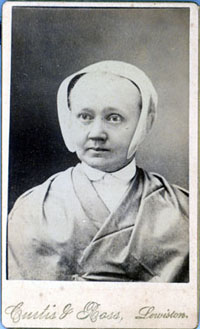 "Let Zion Move" by Eldress Mary Ann Gillespie
CD: Let Zion Move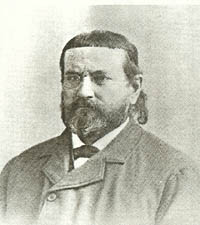 "Blended Together" by Elder Joseph Holden
CD: Blended Together
Two of the most important CD releases are on Rounder Records with 40 spirituals each,
sung by the Shakers, with background notes by two authorities on the subject:

Early Shaker Spirituals:
The United Society of Shakers,Sabbathday Lake Maine,
with background notes by Daniel W. Patterson

Let Zion Move: Music of the Shakers
2 CD set and illustrated booklet,
with background notes by Roger L. Hall

Shaker Music Series CDs


"Celestial Praises" - A Celebration of Shaker Spirituals
Arrangements by Roger Lee Hall and Conrad Held

25 Premiere Recordings!
Performed by The Canterbury Singers and Guest Soloists,
Kathryn Southworth, Director

"Gentle Words" - A Shaker Music Sampler
Compiled by Roger Lee Hall

"Blended Together" - Interviews with The Shakers
Compiled by Roger Lee Hall
Shaker vs. Non-Shaker Tunes





Shaker Music Arrangements
for concerts or other performances

Shaker Music Preservation Series

Deluxe multimedia DVD

New!

Shaker song used in films

New!

The Summer of a Shaker Song - 1967




Shaker Music Preservation Archive

Shaker Music for concerts, recordings, and films

If you are looking for one or more Shaker spirituals to perform in a concert
or to include on a recording, or a film
see these links:

Shaker music arrangements

Shaker music series




Attention film makers and documentary producers!


Shaker music can make an ideal accompaniment for your film


Write to:




Checklist of Most Recorded Shaker Tunes

The list of the Most Recorded Shaker Tunes
between 1961 and 2011
is included on this DVD:

Book, CD and Theater Reviews

Theater Reviews

ANGEL REAPERS (Martha Clarke and Alfred Uhry)

AS IT IS IN HEAVEN (Arlene Hutton)

Related Links on this site
Shaker music books and articles

Shaker and Non-Shaker Tunes

"Shaker music speaks to the heart" (The Lewiston Journal, July 18, 1987)

"Simple Gifts" (multi-media computer disc about the best-known Shaker song)

Note:
This information about Shaker music here on American Music Preservation.com has been updated and expanded from an earlier site known as AMERICAN SHAKER MUSIC available Online between 1998 and 2005 and no longer active. However, links to it are still available for reference at Shaker Pedia.

---

Please help support the educational mission of this website.

Order music books, CDs or DVDs at the

---

Please remember to credit this website

When using any of the information found on these pages
please give credit to ethnomusicologist, Roger Lee Hall

For any questions, write to:
---