From the archive of the

Joseph Brackett's "Simple Gifts"
Shaker simplicity in song

This is the best known Shaker song and there are many arrangements of it -- hundreds of them on Spotify, for example. But few people know the facts about this song?

Consider these common errors...

Fiction No. 1: The title of this song is "The Gift to be Simple" or "Tis a gift to be simple."

Fact: The correct titles are "Simple Gifts" or "Tis the gift to be simple"
as indicated in original 19th century Shaker music manuscripts.

Fiction No. 2: This is a Shaker hymn with more than one verse.

Fact: It was actually a dance song and not a hymn. It was sung while dancing during their worship ritual.
Some Shaker music manuscripts list it as "Dancing Song" or as a "Quick Dance."
The added verses to this song were written by non-Shaker writers.
Here are the words for the complete one verse Shaker song:

'Tis the gift to be simple, 'tis the gift to be free,
'Tis the gift to come down, where we ought to be,
And when we find ourselves in the place just right,
"Twill be in the valley of love and delight.
When true simplicity is gain'd,
To bow and to bend we shan't be ashamed,
To turn, turn will be our delight
Till by turning, turning we come round right.

The last three lines of the song are dance instructions.

Fiction: "Simple Gifts" is an anonymous Shaker tune.

Fact: The song was composed by a Shaker church leader, Elder Joseph Brackett Jr.,
at the Shaker community in Alfred, Maine in 1848. His portrait still hangs in the music room
at the Sabbathday Lake Shaker Village in Maine.

Here is his portrait...


Elder Joseph Brackett Jr, 1797-1882
Composer of the "Simple Gifts" song





If you want all the facts and the full story about the Shaker song,
including its origin and evolution from the 19th century onward,
order this title written by the foremost authority on the song:

The complete illustrated book is available on a multimedia DVD
with bonus audio and video features and is titled,

"Simple Gifts": Great American Folk Song
by Roger Lee Hall

Simple Gifts
©PineTree Music


An attractive broadside (8 1/2 X 11) by GMH Design,
edited by Roger Lee Hall,
with the words and music to the Shaker song
on heavy cover stock,
is available for display or gift-giving.


To order this colorful broadside, go to the

A specially produced CD, "Simple Gifts" - A Shaker Song Revisited (AMRC 0033), contains many versions of this best known Shaker song, and also a 1980 audio interview with Aaron Copland. In addition, there is a copy of The Story of Simple Gifts: Joseph Brackett's Shaker Dance Song, a booklet including historical information and a copy of the original song.

To receive a copy of this CD-ROM, make a donation of $20 to help support this American Music Preservation website.

Make your donation by credit card payable to PineTree Productions, through safe and secure PayPal.

Click on this button to


After you have made your donation,
please send your mailing address to:

Simple Gifts CD

Joseph Brackett Day - May 6

Sponsored by The American Tune Lovers Society (ATLS), each year there is a birthday commemoration of the religious leader who composed the words and music to "Simple Gifts."

Listeners and musicians are invited to play or perform "Simple Gifts" to honor Elder Joseph Brackett's popular Shaker dance song.

A list of recordings is available at Simple Gifts CDs.

Description from the popular annual director, Chase's Calendar of Events:

"JOSEPH BRACKETT DAY. May 6. Day honoring the Shaker religious leader, born May 6, 1797, at Cumberland, ME. In 1848 he composed the popular Shaker song "Simple Gifts" (also known as "Tis the gift to be simple) while at the Shaker community in Alfred, ME. This Shaker song became known worldwide after Aaron Copland used it in his score for the ballet Appalachian Spring in 1944. Elder Joseph Brackett died at New Gloucester, ME, July 4, 1882."

Aaron Copland and "Simple Gifts"

"Appalachian Spring" ballet (1944)
with "Simple Gifts" Variations
Music by Aaron Copland
Martha Graham's Dance Company filmed in 1958


Aaron Copland meets
the Sabbathday Lake Shakers in 1974

"Simple Gifts" on CDs

Original Shaker melody on these CDs...

Early Shaker Spirituals -
Sung by the Sabbathday Lake Shakers


"Simple Gifts" song and a portion of the interview
with Aaron Copland
are included on this CD,

Gentle Words: A Shaker Music Sampler




JOY OF ANGELS:
Shaker Spirituals For Christmas and The New Year
The Sampler Chorus

Love is Little:
A Sampling of Shaker Spirituals
The Sampler Chorus


Arrangements of "Simple Gifts"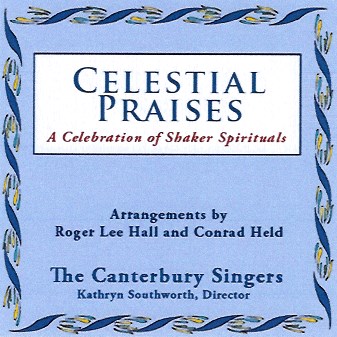 CD: Celestial Praises - A Celebration of Shaker Spirituals
("Simple Gifts" arranged for chorus by Roger Lee Hall)
Video of Roger Lee Hall's arrangement
performed by The Canterbury Singers,
Kathryn Southworth, Director
See also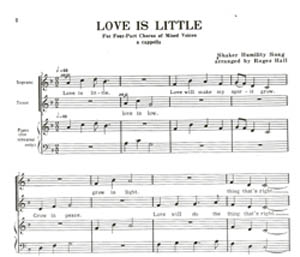 Shaker music arrangements (sheet music)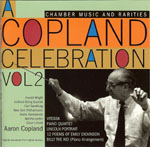 For other arrangements of "Simple Gifts" on CDs

"Simple Gifts" on Film

This DVD was recorded at the beautiful Shaker Village of Pleasant Hill in Kentucky
with an outstanding program of American chamber music,
by the Live from Lincoln Center ensemble of musicians.

Note: The Shaker song is repeatedly incorrectly titled.
Also, it would have been helpful to mention on the DVD
that "Simple Gifts" was composed in 1848
and that there are still a few Shakers living at Sabbathday Lake, Maine,
where Elder Joseph Brakcett's portrait hangs
on a wall of remembrance in their Music Room.

Did you know the "Simple Gifts" melody was used on television and several films?

For example:

Aaron Copland's arrangement of the Shaker song was used as the theme for "See It Now" on television in the 1960s.

In a British comedy starring Peter Sellers the Shaker melody was arranged by film composer Richard Rodney Bennett and the film is available from Amazon.com...


DVD: HEAVENS ABOVE! (1963)
starring Peter Sellers

And this film where "Simple Gifts" is played over the End Credits...

DVD: THE EUROPEANS (1979)
starring Lee Remick, Wesley Addy, Robin Ellis

Plus this film directed by Spike Lee, who said that when he heard Aaron Copland's music
(including his arrangement of "Simple Gifts"), he thought of America, and his film is about basketball
which is American in origin so it was a natural connection with Copland's music...

For inquiries by documentary or feature film producers about
this Shaker song , write to:

Related Links

Shaker Books and Articles -- books and articles about Shaker music.

Shaker Music History -- highlights from 18th to 20th centuries.

Shaker Music Lectures and Workshops -- programs available for any audience

Simple Gifts - a list of CDs both recommended and not recommended.

Wikipedia -- article about "Simple Gifts."
Note: Some of the information in this article is incorrect. The information under "Tune," has a music example and text underneath and both are incorrect and not based on Shaker sources.

For comments or questions, write to:

Joseph Brackett's Simple Gifts
Please help support the educational mission of
American Music Preservation.com
and help to keep it available online.
Purchase a CD, DVD or music collection at the
or
Make a donation at the bottom of the page at

---