Joseph Brackett's "Simple Gifts"

Portrait of Elder Joseph Brackett,
1797-1882

Source:
The Aletheia:Spirit of Truth
by Aurelia G. Mace.
Farmington, Maine:
Press of the Knowlton & McLeary Co., 1907



Read about this popular Shaker song by clicking on these links:
---

Message to Internet Readers:

Should you use any of the information on this page on your web site, in a research paper, publication, or a performance, kindly give proper credit to Roger Hall, who is the foremost authority on this Shaker song and has prepared the information on this web page.

Thank you.

---

Help support the mission of this website.

Use this handy Search Box to order your merchandise

---


Simple Words for a Simple Song


"Simple Gifts" has become one of the most popular American folk spirituals.

It has been performed in schools, churches, concert halls and elsewhere all across the USA and in other countries as well.

Yet, unfortunately there have been so many errors associated with "Simple Gifts" that it is time "we come round right."

These are the complete original words to the one verse song, "Simple Gifts":

'Tis the gift to be simple, 'tis the gift to be free,
'Tis the gift to come down where we ought to be,
And when we find ourselves in the place just right,
'Twill be in the valley of love and delight.
When true simplicity is gain'd,
To bow and to bend we shan't be asham'd,
To turn, turn will be our delight
'Till by turning, turning we come round right.

Did you know that "Simple Gifts" is NOT a hymn and should not be classified as "Traditional"?

It was written as a dance song, what the Shakers called a "Quick Dance."

The Shaker leader who wrote both the words and the tune was Elder Joseph Brackett.

Now you can find out about this beautiful Shaker song in an illustrated book available as a Word document on DVD disc, written by Roger L. Hall, an ethnomusicologist and composer who is the foremost authority on this Shaker song.

He first wrote about the song in an article published in a national magazine in 1980. Later on, he wrote more in several publications and then an illustrated monograph on the song was published in 2006 with a 2nd edition in 2009. Now for this 3rd edition, he has further expanded it with bonus music examples and a video clip.

To order your copy of the multi-media DVD while supplies last, click this link:

THE STORY OF 'SIMPLE GIFTS': Joseph Brackett's Shaker Dance Song

Roger Hall's arrangement of "Simple Gifts" for solo voice/chorus and piano
is included in the Music Supplement of
A GUIDE TO SHAKER MUSIC (6th edition)

Joseph Brackett Day

May 6 is Joseph Brackett Day


Sponsored by The Tune Lovers Society, each year there is a birthday commemoration of the Shaker religious leader who wrote the words and music to "Simple Gifts."

Elder Joseph Brackett Jr. was born on May 6, 1797 in Cumberland, Maine. He died on July 4, 1882 in New Gloucester, Maine.

Listeners and musicians are urged to play or perform "Simple Gifts" on May 6 to honor Elder Joseph Brackett's popular Shaker dance song.

There are a few recommended recordings listed at CD and DVD Releases.

For more information about Joseph Brackett Day,
look under "May 6" in this well-respected annual directory:

Chase's Calendar of Events 2013

An attractive broadside (8 1/2 X 11)
with the words and music to the Shaker song
on heavy cover stock
is available for display or gift-giving.




To order this colorful broadside, go to the

"Simple Gifts" on CDs

Original Shaker melody on these CDs...

Early Shaker Spirituals -
Sung by the Sabbathday Lake Shakers


"Simple Gifts" song and an exclusive interview with Aaron Copland
are included on this CD,

Gentle Words: A Shaker Music Sampler


See also this accompanying monograph,

Gentle Words: Shaker Music in the 20th Century

JOY OF ANGELS:
Shaker Spirituals For Christmas and The New Year
The Sampler Chorus

Love is Little:
A Sampling of Shaker Spirituals
The Sampler Chorus




Arrangements of the Shaker song

Here are a few of the best ones...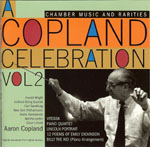 Arrangement by Aaron Copland of "Simple Gifts" for voice and piano
with William Warfield, baritone, and Aaron Copland, piano,
on this CD,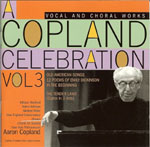 Orchestral arrangement of "Simple Gifts" on this CD,
"Simple Gifts" is sensitively performed by cellist Yo-Yo Ma
with vocalist, Allison Krauss, on
The Essential Yo-Yo Ma (2 CDs)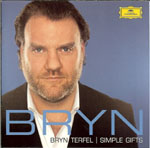 Chris Hazell's arrangement,
sung by Bryn Terfel with the London Symphony Orchestra
at this link,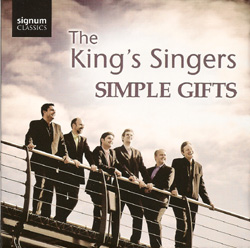 The King's Singers perform Bob Chilcott's popular arrangement
on this CD titled,
The King's Singers: Simple Gifts

"Simple Gifts"
Music For U.S. Presidents
Because of its message of simplicity and freedom and with its deep American religious roots, "Simple Gifts" has been used in the inaugurations of three U.S. Presidents:

Ronald Reagan in 1985
Bill Clinton in 1993
Barrack Obama's in 2009

This Shaker song was also performed at the funeral of Richard Nixon in 1994. So that's two Republicans and two Democrats who had this song included in their inauguration and funeral service.

Thus, "Simple Gifts" might rightly be called --

America's most inspiring folk spiritual.

A new piece by film composer John Williams titled, "Air and Simple Gifts," was premiered during the Inauguration Day ceremonies for U.S. President Barrack Obama on January 20, 2009.

Watch the performance of "Air and Simple Gifts" by John Williams
at the 2009 Inauguration ceremony by violinist Itzhak Perlman,
cellist Yo-Yo Ma, clarinetist Anthony McGill, and pianist Gabriela Montero,
here on

For two reviews of this John Williams piece,
click on these links:


Anthony Tommasini, New York Times

"Air and Simple Gifts" is now available on this 3 CD set:

The Music of America: John Williams

"Simple Gifts" On Film

A new story treatment by Roger Lee Hall
is available about Elder Joseph Brackett's famous song
and how it was written including the singing and dancing to it.

For inquiries by documentary or feature film producers,
write to:

Simple Gifts film story treatment

Did you know the "Simple Gifts" melody was used in a British comedy starring Peter Sellars? The Shaker melody was arranged by film composer Richard Rodney Bennett and is available from Amazon.com...

Do you know of any other films that uses the "Simple Gifts" melody?
Send the information to:

Multi-media DVD:
"Millennial Praise"
Choral Singing in Earlier America,
From The Pilgrims to The Shakers

Please help keep this site online by making a donation and you will receive this CD with over an hour of music:

Related Links

Read the Spirit.com -- David Crumm speaks with author Roger Hall about "Simple Gifts."

Shaker Books and Articles -- books and articles about Shaker music, including THE STORY OF SIMPLE GIFTS.


Shaker Music History -- highlights from 18th to 21st centuries.

Shaker Music Lectures and Workshops -- programs available for any audience

Simple Gifts - a list of CDs both recommended and not recommended.

Society for American Music Bulletin (Fall, 1997) -- about Joseph Brackett and "Simple Gifts."

What's in a Song: Simple Gifts

Wikipedia -- article about "Simple Gifts."
CAUTION: Much of the information is correct but under "Tune" the music example and text with it are not accurate and not based on Shaker sources.
Help support the preservation mission of this site.

Use this handy Search Box to order your merchandise from Amazon.com
---