.



For Your Information
For over two centuries the Town of Stoughton, Massachusetts has been filled with singing!

It is believed to be the oldest continuous singing tradition of its type in the United States of America.

The music performed in the distant past was mostly religious music.

More recently, other music has been performed, for example in "A Stoughton Musicfest" discussed below.

Attention American music specialists and Sacred Harp singers!

Many who study and sing early American choral music are unaware of this long and distinguished musical past in Stoughton, beginning as far back as the 1760s!
Among Stoughton's distinctions are two historic musical societies, one of them now the OLDEST CONTINUING CHORAL SOCIETY IN THE USA -- The Old Stoughton Musical Society. It was organized on November 7, 1786, but their singing goes back as far as the 1760s. This musical society was officially recognized by The Guinness Book of Records in 1994 as the oldest in the U.S., thanks to proof provided by musicologist, Roger Lee Hall.




.

.

Community Forum TV Show

Watch the Community Forum talk show from June 6, 2013 hosted by Roxanne Morse with guest - musicologist, Roger Lee Hall, speaking about his many Stoughton music accomplishments.

Click this link to watch the Free one hour program:

Stoughton Media Access Corporation

.

.

If you have any questions about the titles listed below write to,

Stoughton Music Monograph Series
on CD-ROMs

New Revised Edition!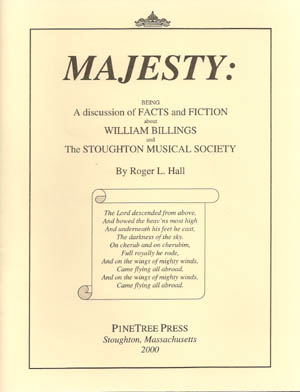 "MAJESTY":
Being A discussion of FACTS and FICTION
about William Billings
and The Stoughton Musical Society
By Roger L. Hall
$19.95 (USA orders)/ $25 (Overseas Air Mail)



This new edition contains additional files along
with the original monograph from 2000,
about the most important early American composer,
William Billings (1746-1800) and his
connections to the Stoughton Musical Society.
The disc also includes a family geneology,
William Billings life timeline, and sheet music examples.
It also includes this choral work,
compiled and edited by Leonard Van Camp: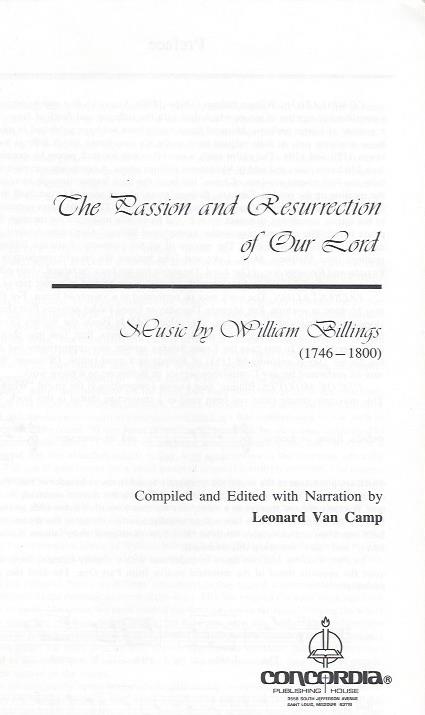 There is this audio album on the disc:

1. Canon: Thus Saith The High The Lofty One (1770)
2. MAJESTY (1778)+
3. CHESTER (1778 & 1786+)
4. DAVID'S LAMENTATION (1778)
5. ANTHEM FOR THANKSGIVING (1794)
6. Interview with Roger Hall on WGBH-FM radio in Boston (1985)
7. MODERN MUSIC (1781)
8. STOUGHTON (1770) - edited by Roger Hall+
9. CLAREMONT (1794)
10. ANTHEM FROM SUNDRY SCRIPTURES+
11. ASSURANCE (1781)
12. EUROCLYDON (ANTHEM FOR MARINERS)(1781)
13. Interview on WGBH radio with Roger Hall and David P. McKay (1986)
14. CHARITY ANTHEM (1794)+
15. SHARON (1778)+
16. CRUCIFIXION (1786)+
17. THE PLEASURES OF VARIETY+ - text by William Billings, 1794,
music by Roger Hall, 1980
18.
D
EDICATION - music by Roger Hall, 1986, text by William Billings
19. ANTHEM: O GOD MY HEART IS FIXED+
20. WGBH radio interview, 1986 and CHESTER (1778)
+ = Premiere recording
To order this title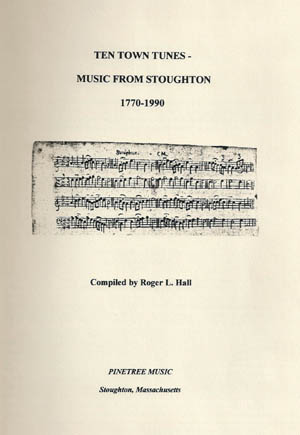 .
TEN TOWN TUNES:
Music From Stoughton, 1770-1990
Compiled by Roger L. Hall
$14.95 (USA)/$22 (Overseas Air Mail)


Sheet music collection and concert programs (pdf),
plus a music album
a commerorative concert in Stoughton in 1990
To order this title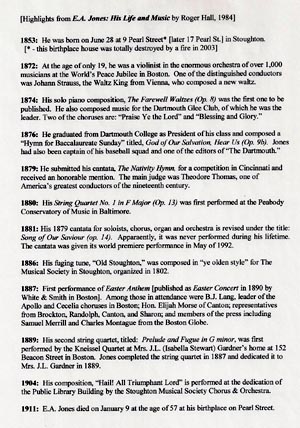 E.A. JONES: His Life and Music
by Roger L. Hall
$14.95 (USA) /$22 (Overseas Air Mail)

Biographical information about Stoughton's most accomplished
composer, Edwin Arthur Jones (1853-1911), with
a list of his complete known works. Also included on
the CD-ROM is a music album with some of his
sacred and chamber music.
To order this title

Multimedia DVDs for computer
(historical information, pictures, music, videos)
NEW Publication!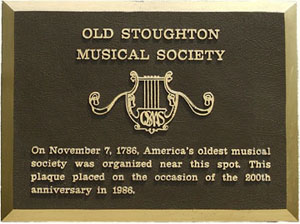 "DEDICATION":
Singing in Stoughton, 1762-1992
by Roger L. Hall
(PineTree Press, 2017)
$24.95 (USA orders/$32 (Overseas Air Mail)
Read about this book -- click here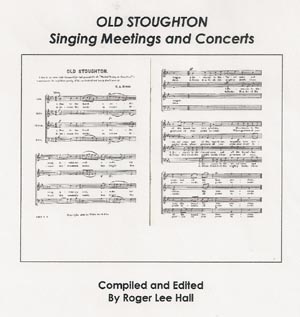 "Old Stoughton":
Singing Meetings and Concerts
Compiled and Edited by Roger Hall
$24.95 (USA)/ $32 (Overseas Air Mail)
Stoughton, Massachusetts has the distinction of having the oldest singing society in the United States of America.
In celebration of the 250th anniversary of the first documented singing meetings in Stoughton, a multi-media computer disc has been prepared by musicologist, Roger Hall, with historical information about singing meetings and concerts in Stoughton, Avon, Braintree, Brockton, Canton, Randolph, Sharon and other area towns.
This survey covers the two hundred years from 1762 to 1962 with the two town musical societies and does not include the music activities of the Stoughton public schools since that is a separate town-sponsored function.
The disc also contains picture galleries with local composers and sheet music, and two music albums with 40 titles.
This DVD-ROM is useful for musicians, musicologists, historians, geneologists, researchers, teachers, students, and anyone interested in local or regional history.
Read more about this disc -- click here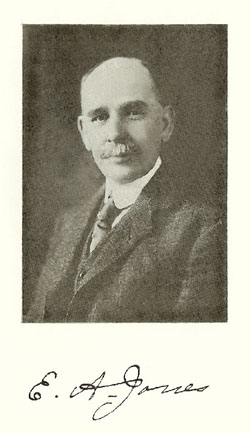 "How Beautiful Upon The Mountains":
A Centennial Tribute to E.A. Jones
Produced by Roger Hall
$24.95 (USA)/ $32 (Overseas Air Mail)
A commemorative tribute to Stoughton's most accomplished 19th century composer, Edwin Arthur Jones (1853-1911), with documents about his music, two music albums, and a video program with 150th birthday party at the Stoughton Historical Society in 2003 and inclduing a special birthday cake!
Read how to get this multi-media DVD with documents, pictures, music examples
and video program --
.

.
Please Note:
These titles are only available from this page.

To order any of the above titles
make a donation for the specified item
as listed under each title
For Overseas Air Mail -- please go to the
All the titles
are playable on computer
and contain Microsoft Word documents
and mp3 or Real Audio (.ra) files.
Click on this button to:
After you have made your donation,
to insure proper delivery, please mention the title and send your mailing address to:
Stoughton Music Heritage Series

CD Series
.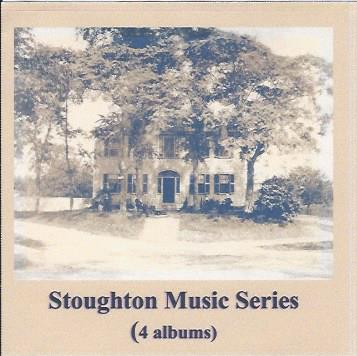 .
4 albums of hard-to-find American music,
available separately
or
on one disc with over 80 total music tracks

for a special discount price.
To order any or all of them,
The Stoughton Harmony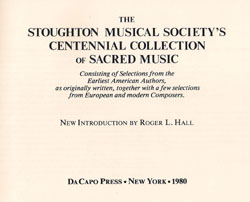 A survey of choral music by composers from the 18th, 19th and 20th centuries, including William Billings, Oliver Holden, Jeremiah Ingalls, Daniel Read, Samuel Capen, E.A. Jones, Charles Ives and Roger Hall, all music performed in Stoughton, home of the America's oldest choral society, founded in 1786.
A Dedication Concert:
In Honor of the 100th Anniversary of Stoughton Town Hall (1981)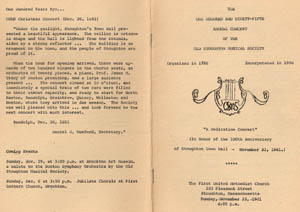 Read more about this historic concert presented to celebrate the Centennial of Stoughton Town Hall and featuring music by American composers performed by the Old Stoughton Musical Society Chorus, conducted by Roger Hall in 1981
-- Click here
Old Stoughton Music Sampler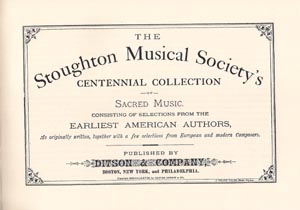 A selection of choral music from the 18th to 20th centuries performed by the Old Stoughton Musical Society Chorus with music by William Billings, Oliver Holden, Daniel Read, Jeremiah Ingalls, Stephen Foster, Charles Ives, and these composers from Stoughton area towns:

Stoughton -
-Edwin Arthur Jones - The Lord is King, 1890
-Roger Lee Hall - Dedication, 1986 and Peace, 1981

Sharon -
-Edward French - New Bethlehem, 1799
-Jacob French - The Heavenly Vision, 1786

Canton -
-Supply Beclher - Make a Joyful Noise, 1794
-Samuel Capen - The Dove, 1805

"Chester" - Music in Old New England, 1778-1878
Radio documentary with highlights from the Old Stoughton Musical Society's First Fall Music Festival in Bridgewater, Massachusetts on October 14-15, 1978. Composers incluide: William Billings, Bartholomew Brown, Jeremiah Ingalls, Samuel Capen, Lowell Mason, George Root, James Hewitt, Edwin Arthur Jones.
For a list of the music titles -- CLICK HERE
.

All CDs are available by donation
to help support the New England Music Archive
Each CD is available for a donation of $17.95,
or all four albums on one disc for $48.00 - a 30% discount!

Price includes shipping on any of these titles (USA only)
If you are ordering outside of the USA,
you must pay for Overseas Air Mail.
To pay for this extra shipping,
see "For Overseas (Worldwide) Air Mail"
For USA orders, make your donation
by credit card payable to PineTree Productions,
through safe an secure PayPal at the
After you have made your donation,
please indicate the title(s) you want
and include your mailing address.
Send to: