The Singer and The Promoter:

Elvis Presley and Bill Randle

[Picture of Elvis Presley and Bill Randle, Nov 23, 1956 from scottymoore.net]

Electric Elvis and the Cleveland D.J.

Cleveland disc jockey Bill Randle was the one who introduced Elvis Presley on national television on The Dorsey Brothers program, Stage Show.

Elvis made his first appearance on that TV show on Saturday night, January 28, 1956.

Contrary to many accounts, Elvis did not sing "Heartbreak Hotel" on his national TV debut appearance, even though it had been recorded by RCA on January 10.

The "Heartbreak Hotel" single was the A side of the first official RCA record. It was released January 27. The B side contained the song, "I Was the One." This first RCA single became a million seller by April of 1956.

Bill Randle told me that Elvis wanted an upbeat number for his TV debut and RCA wanted to be sure their new singer had a chance to be seen on television so Elvis held off singing "Heartbreak Hotel" until his February 11appearance on Stage Show. He sang the song again on the March 17 and March 24 telecasts.

For his national television debut on January 28, Elvis sang two songs in a medley:"Shake, Rattle and Roll" (Charles Calhoun) and "Flip, Flop and Fly" (Charles Calhoun and Lou Willie Turner). Elvis also sang the Ray Charles song, "I Got a Woman," on that first TV appearance.

This is the cover of the original 2 LP set --

The TV footage showing Bill Randle introducing Elvis on that national debut in 1956 is featured in the two hour documentary film, This is Elvis (1981). This film combines both original films of Elvis and various Elvis impersonators who portray him during his life. Yet it is still remains one of the best film documentaries about Elvis. You can order the documentary by clicking this link:

All the songs sung by Elvis on the Dorsey Brothers "Stage Show", "The Milton Berle Show", "The Steve Allen Show", and "The Ed Sullivan Show" are found on this outstanding 4-CD Box Set:



The Bill Randle Chronicles -
From Electric Elvis To The Shakers
PineTree Press, 2015 (PTM 1044)
by Roger Lee Hall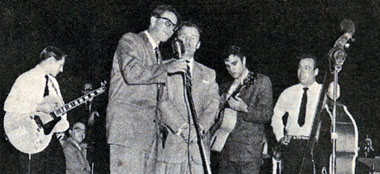 Rare picture of Cleveland disc jockey, Bill Randle,
introducing Elvis Presley on Octber 20, 1955
© PineTree Press, 2005
This unique multi-media collection is unlike print books and it contains more inofrmation than in the "Shake, Rattle and Roll" title mentioned above.

There are 15 separate folders, and includes over 200 pages of information from newspaper stories, magazines, books and online sites, including "Elvis On Record" a site formerly run by the author.

2015 marks the 60th anniversary of the famous movie short featuring Elvis Presley, Bill Haley and The Comets, Pat Boone, The Four Lads, and Patricia Wright. This collection has information on that film and especially Elvis in Cleveland in 1955 and the promotion of him by Bill Randle.

This new publication is only available on a CD-ROM only by donation from this website and is readable on any computer and has articles, pictures, audio albums, and a video clip of the Elvis TV debut in 1956.

The author of the CD-ROM, Roger Hall, is a music preservationist and a former disc jockey who had an evening radio program, "IN THE MOOD," playing music of the 1930s, 1940s and 1950s. In 1993, he did a short memorial tribute to Elvis Presley on his radio program which is included on the CD-ROM.

Twenty years earlier, he was a grad student and teaching assistant for Bill Randle at Case Western Reserve University in Cleveland, and he has included his remembrances of speaking with Randle about his early promotion of Elvis Presley and the famous movie short which was filmed on October 20, 1955 and is still unreleased:

The Pied Piper of Cleveland:
A Day in the Life of a Famous Disc Jockey




Popular WERE disc jockey, Bill Randle




Other information on the CD-ROM include an early aircheck from Bill Randle's radio show on WERE in Cleveland in 1955, an audio interview with Bill Randle about Elvis and others in the 1950s, an interview with Alanna Nash about her excellent book on Colonel Tom Parker, and other articles with information not available elsewhere.
Praise from those who ordered The Bill Randle Chronicles--


"I must say it is an impressive collection. I was glad to see the original Time Magazine article on Randle reprinted as well as other documents, like Col. Parker's telegram, and was especially interested in the interview with Alanna Nash.
-- Allen Wiener, author of the highly recommended book,
Channeling Elvis: How Television Saved the King of Rock n' Roll


Recieved my ''Bill Randle Chronicles'' yesterday!!! Soooo much information!!! I've read the article. Fantastic info for ALL Elvis fansl!!"
-- Mark Lee Pringle, popular Elvis impersonator

The Bill Randle Chronicles:
From Electric Elvis To The Shakers
by Roger Lee Hall
PineTree Press, 2015

available on a CD-ROM readable on your computer,
with articles, music album, audio files
including an interview with Bill Randle,
a picture gallery, and
video clip of Elvis national TV debut in 1956.
This CD-ROM is available for $19.95,
including shipping (USA only).

It is for educational, non-commercial use
and to help support this educational website.

For orders outside the USA,
go "Featured Title No. 10" at the



To order, click on the button below.
Recommended Early Elvis Recordings

(1954-1956)

Two other CDs are recommended for the SUN Records years:

Sunrise (2 CDs) - this is the best collection available, even the alternate tracks on CD 2 are worth a listen.

The Sun Sessions - may be hard to find but worth it for the outtakes & alternate takes.







Why isn't Bill Randle in the Rock and Roll Hall of Fame?

Disc jockey Alan Freed (1986), TV host Dick Clark (1993), and other early non-performers are in the Rock and Roll Hall of Fame.

Yet the influential WERE radio host, who in the mid-1950s was one of America's top disc jockeys and helped promote major rock stars like Bill Haley & His Comets and Elvis Presley is still not in the Hall of Fame.

If you would like to join the campaign to install Bill Randle, send your email request to:

Rock and Rolll Hall of Fame
(Cleveland, Ohio)








Read the interview with Alanna Nash
about her great book,

The Colonel: The Extraordinary Story
of Colonel Tom Parker and Elvis Presley
AMP Related Links
---