A Centennial Tribute to Ken Darby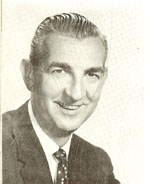 [1957 Publicity Photo]
Born: May 13, 1909, Hebron, Nebraska
Died: January 24, 1992, Sherman Oaks, California
His full name was Kenneth Lorin Darby and his movie career spanned four decades, from the early 1930s to the late 1960s, beginning as a singer with The King's Men, leading to arranging music, especially as music director for Walt Disney Studios in the 1940s (MAKE MINE MUSIC, MELODY TIME) and then later as vocal arranger for Alfred Newman in the 20th Century Fox Music Department.
Singer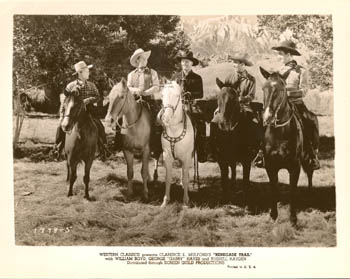 Ken Darby with his three singing companions were known as The King's Men. They were the first singing quartet to appear in a Hopalong Cassidy western, RENEGADE TRAIL [shown in the above picture -- Darby is on the far right horse].

This Paramount western film was released in 1939, starring William Boyd as Hopalong Cassidy, co-starring Russell Hayden as Lucky and George (Gabby) Hayes as Windy. The King's Men performed two songs in this western film:"Lazy Rolls the Rio Grande" and "Hi Thar, Stranger!" (both sung with singing cowboy, Eddie Dean)
-- From "Hi Thar, Stranger! Ken Darby and the King's Men in Hoppy Films," by Roger Hall in HOPPY TALK, Summer, 2004.

The publicity photo below shows The King's Men from one year earlier, without their western duds. Pictured clockwise from left to right are:

Jon Dobson, Ken Darby, Rad Robinson, and Bud Linn...
(Photo courtesy of Films in Review, June-July 1969)
Darby also worked as an arranger during the 1950s
and also as a
Songwriter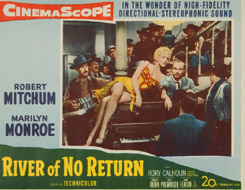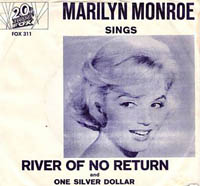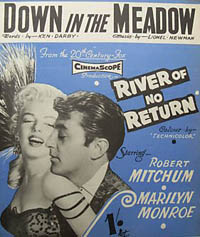 For RIVER OF NO RETURN (1954), he wrote the lyrics to: "I'm Going to File My Claim," "Down in the Meadow," "One Silver Dollar" (all sung by Marilyn Monroe) and the title song (sung by Tennessee Ernie Ford and also by Marilyn Monroe) with the music by Lionel Newman.
Other Ken Darby songs:

"New York" from HOW TO MARRY A MILLIONAIRE (1953),
"Cindy from THE TALL MEN (1955)
"Paper of Pins" from BUS STOP (1956)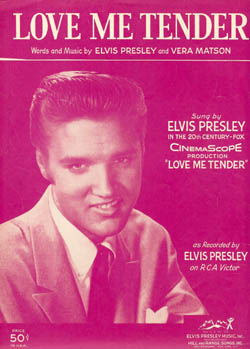 Did you know that the songwriters credited for "Love Me Tender" (Elvis Presley and Vera Matson) did not write the words or the music for this movie song?

Actually it was Ken Darby who wrote the title song. He based his melody on an old Civil War Era song, "Aura Lee (or Lea)."

He also wrote the other three songs in LOVE ME TENDER (1956) sung by Elvis Presley:

"Poor Boy"
"We're Gonna Move"
"Let Me"

For more about the early years of Elvis, see

Ken Darby received three Oscars for his music arranging:
THE KING AND I (with Alfred Newman)
CAMELOT (with Alfred Newman)
PORGY AND BESS (with Andre Previn).

Read excerpts from an excellent interview with Darby by Page Cook in Films in Review at this link:

I never met Ken Darby though I wish I had and told him what a talented musician he was during his long career.

Just listen to those wonderful lyrics he wrote for "River Of No Return" or "Love Me Tender" for a sample of his skill as a songwriter.

---Roger Hall

More information about Ken Darby and The King's Men
is available in the book on a multimedia computer disc titled,

"Following the Stars" -- Music and Memories of Hopalong Cassidy
---