Hopalong Cassidy Music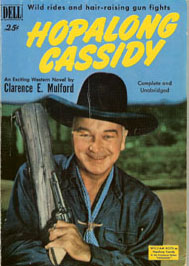 To go to each section directly, click on these links:


The Actor Who Was Hopalong Cassidy

New song about Hopalong Cassidy

Music in Hopalong Cassidy Films

Alan Livingston and The Capitol Record-Readers

Hopalong Cassidy music on CD and DVD-ROM NEW!

Hopalong Cassidy On Radio and TV

Hopalong Cassidy in magazines NEW!

A Tribute to Grace Bradley Boyd (Mrs. Hopalong Cassidy)

Hopalong Cassidy Festivals and Reunions

Hopalong Cassidy Song Series NEW!

---

Please help support this American music preservation website
and keep its mission to provide free information online.

Use this Search Box for your purchases from Amazon.com...

---
A New Hoppy Song
© PineTree Music, 2010
Songwriter Roger Hall has written a new song,
with beautiful lyrics by Susie Coffman, and it is titled --
"The Angels Handed Me A Rose"
(Hoppy's Song For Grace)
The song is dedicated in memory of
Mrs. Hopalong Cassidy (Grace Bradley Boyd)
See more titles at

The Actor Who Was Hopalong Cassidy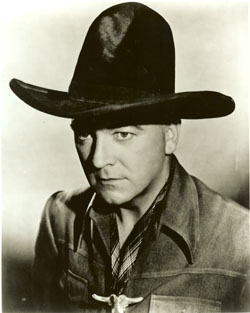 Hopalong Cassidy was the western character played by William Lawrence Boyd (1895-1972) in 66 films between 1935 and 1948, the longest running series of any fictional movie character.

William Boyd also made 52 half-hour television programs and 104 half-hour radio episodes that were broadcast in the early 1950s. He was one of the top box office western stars from the late 1930s to the mid-1940s. William Boyd didn't just play the part, he LIVED the part. He was loved by millions of adoring fans and was known by just one name: "Hoppy."

There were many actors who played Hoppy's sidekicks, including Britt Wood, singer Brad King, Jay Kirby, George Reeves (later in SUPERMAN on television), Jimmy Rogers (son of Will Rogers), and Rand Brooks.

There were also his two main comic sidekicks: George Hayes (as Windy) and Andy Clyde (as California).

Robert Mitchum also began his acting career in a Hopalong Cassidy western: BAR 20 (1943).

The first time a trio of cowboys received top billing was in Hopalong Cassidy westerns.
The best of the threesomes in these westerns were: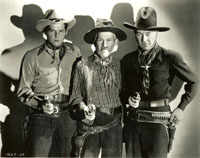 First Threesome:
Shown left to right: Johnny Nelson (Jimmy Ellison), Windy Halliday (George Hayes), and Hopalong Cassidy (William Boyd).
First film as a threesome: BAR 20 RIDES AGAIN (1935)

Jimmy Ellison in Hoppy films from 1935-1937
Geoorge Hayes in Hoppy films from 1935-1939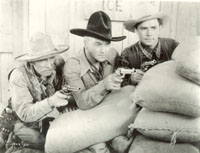 Second Threesome:

Shown left to right: California Carlson (Andy Clyde), Hopalong Cassidy (William Boyd), and Lucky Jenkins (Russell Hayden).

First film as a threesome: HILLS OF OLD WYOMING (1937).
In 1998, Roger Hall wrote to a national directory and asked them to put in an entry for William Boyd's birthday. They agreed to put it in the directory that year and every year afterwards. Look in this directory on June 5 and you'll see the announcement of the"William Boyd Birth Anniversary"
(June 5, 1895) in

Music in Hopalong Cassidy Films
By Roger Hall
Most B-western fans know about the singing cowboys of the 1930s and 1940s, such as Gene Autry, Roy Rogers, Tex Ritter, and others .

Maybe you assume that because Hopalong Cassidy wasn't a singing cowboy there were no songs in his westerns. Wrong! There were actually over 40 songs featured in the Hoppy films. There were also talented music directors, such as Boris Moross who worked for many years at Paramount.

Highly skilled composers were also employed to write the background scores. These composers included: John Leipold (who did 8 Hopalong Cassidy scores), and Victor Young (who did 4 of them). Both of these composers received Oscars for other films:

John Leipold received his Oscar for John Ford's STAGECOACH in 1939.

Victor Young received an Oscar posthumously for Mike Todd's Oscar-winning film, AROUND THE WORLD IN EIGHTY DAYS, in 1956.

1930s

In the first film of the long-running series, titled HOP - A - LONG CASSIDY (1935), "Following the Stars" was sung by Jimmy Ellison as Johnny Nelson -- he wasn't a strong singer but did very nicely making the song an important part of the film's story.

The first singing group featured in a Hoppy western was Chill Wills & His Avalon Boys, who sang in BAR 20 RIDES AGAIN in 1935, and again in THE CALL OF THE PRAIRIE in 1936. But only their voices were heard on the soundtrack.

There was even a Hoppy western with several Irish songs. In NORTH OF THE RIO GRANDE (1937), Walter Long playing Irishman Bull O'Hara, warbles the song, "Wearin' of the Green," accompanied at the piano by George ("Windy") Hayes -- who wasn't really a piano player! Later in the film, singer Bernadene Hayes as Faro Annie sings the popular song,"When Irish Eyes Are Smiling.

The St. Bendan's Boy Choir directed by Robert Mitchell were featured in THE FRONTIERSMAN in 1938. This fine choir sang a bunch of traditional songs in this Hoppy movie, including "Home on the Range," "Columbia, The Gem of The Ocean," and "Auld Lang Syne." The film also featured a young Dickie Jones (who didn't sing), who later was the voice of the wooden boy in Disney's animated film classic, PINOCCHIO. Many years later, Dick Jones was a guest at the Hopalong Cassidy Festival in Cambridge, Ohio.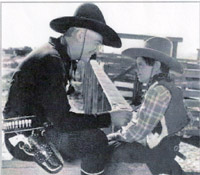 The next year of 1939 featured the first singing quartet in a Hoppy movie. They were known as The King's Men and sang two songs in THE RENEGADE TRAIL. This was one of the Hopalong Cassidy westerns with a young boy in the cast. His full name was Moyer MacLaren ("Sonny") Bupp [shown at right with Hoppy]. A few years later, he played Charles Foster Kane 's son in CITIZEN KANE. Sonny told me many years ago that he had really enjoyed playing in that Hopalong Cassidy movie opposite William Boyd, who treated him very kindly.

The first song in THE RENEGADE TRAIL was "Lazy Rolls The Rio Grande" with a solo by future singing cowboy star, Eddie Dean.

The other song was "Hi Thar, Stranger!"



Hopalong Cassidy with The King's Men
in THE RENEGADE TRAIL (1939)


One of the members of The King's Men was Ken Darby, who later worked at 20th Century Fox Studios as an arranger, songwriter and conductor.

He received three Oscars for his work on Hollywood musicals:

THE KING AND I (1956), PORGY AND BESS (1959), and CAMELOT (1967).

To read about Ken Darby's work with a famous young singer in
LOVE ME TENDER, click here

Most of the early singers for Hopalong Cassidy westerns like TRAIL DUST (1936) and HILLS OF OLD WYOMING (1937) were not identified on the film credits so are not known today.

1940s
There were less songs in later Hoppy movies, most of them in the early 1940s.

One of the movies featured The King's Men in STAGECOACH WAR (1940)

Brad King (real name: Jack Watt) appeared in 5 Hopalong Cassidy movies in 1941, including two with The Jimmy Wakely Trio: STICK TO YOUR GUNS and TWILIGHT ON THE TRAIL

The Guardsmen: RIDERS OF THE TIMBERLINE (1941) - "The Fightin' Forty"

The Sportsmen Quartette with Thurl Ravenscroft: LOST CANYON (1943) - "Jingle, Jangle, Jingle"

Read Roger Hall's Hopalong Cassidy Song Series in HOPPY TALK.
Join the Hopalong Cassidy Fan Club.
Click here.

You can watch the movie trailer for the first Hoppy western in 1935 on
See also this YouTube channel for more video clips at

Hopalong Cassidy
Ultimate Collector's Edition
(all 66 films on 14 DVDs in metal lunch box)



Alan Livingston
and
The Capitol Record Readers
By Roger Hall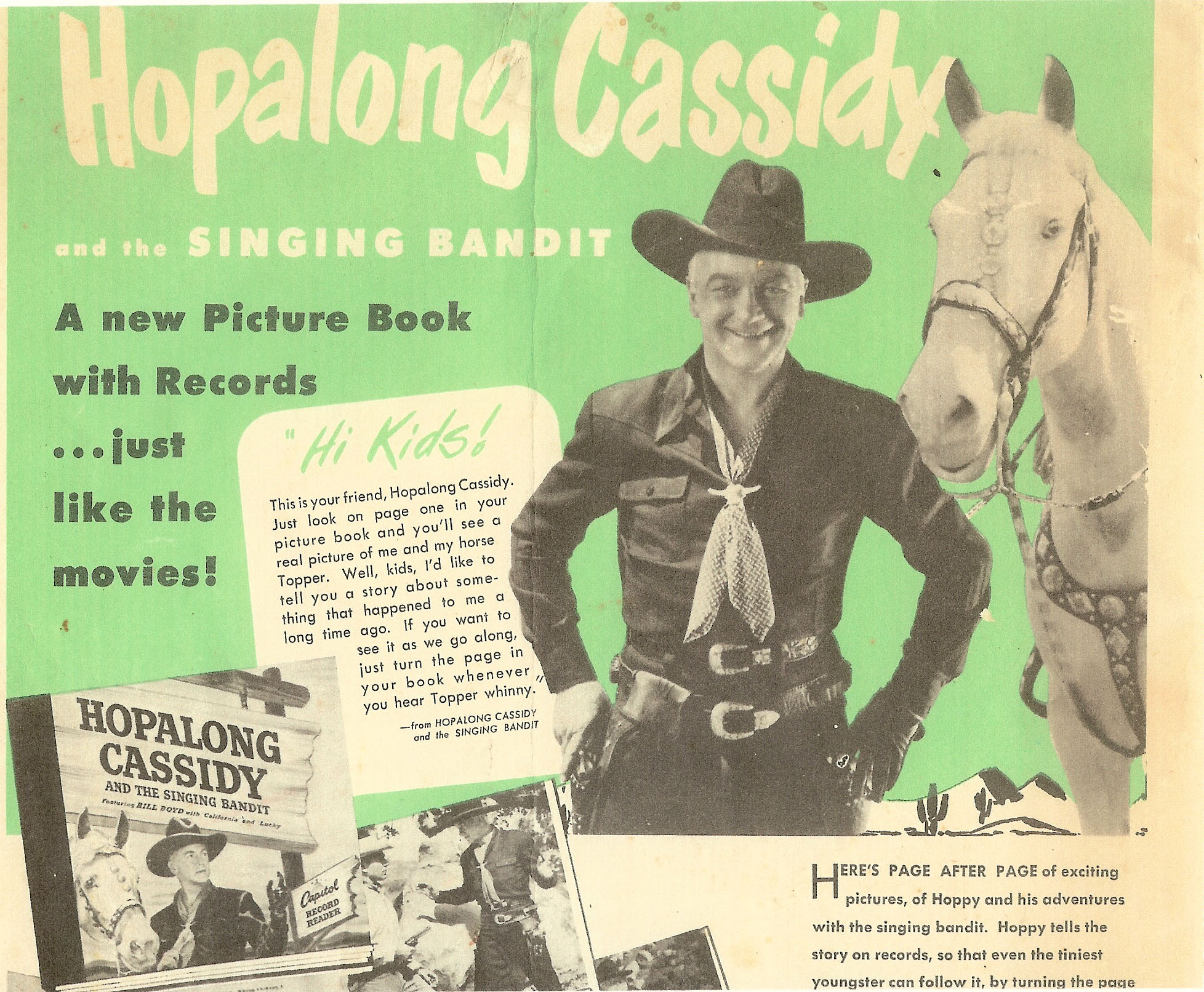 Beginning in 1946, there was a series of children's records produced under the Bozo the Clown logo.

They were released by Capitol Records and were the idea of this creative record producer...

Alan W. Livingston (1917-2009)
The first record produced by Livingston in the series was Bozo at the Circus and it became a million seller.

He produced several sets known as "Record-Readers," which included an illustrated picture book.

These record sets became popular with kids everywhere, especially the ones for Hopalong Cassidy, who was at his peak in 1950.

This was the first children's record set to make it
to the Top Ten on the pop charts...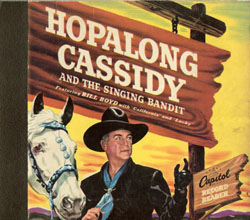 HOPALONG CASSIDY AND THE SINGING BANDIT
was available with two 78 rpm or 45 rpm records.
The cast of characters for this record set:

Bill Boyd as Hopalong Cassidy
Andy Clyde as California
Rand Brooks as Lucky
and Topper as "Himself"

There was also an 18 page illustrated story booklet which accompanied the records. This set included a cute song with lyrics by Alan Livingston and music by Billy May, an accomplished arranger and conductor who worked with many great singers, including Frank Sinatra, Nat King Cole and Peggy Lee.
Listen to this complete story and song for
HOPALONG CASSIDY AND THE SINGING BANDIT
by clicking here.
There was another Record-Reader released by Capitol Records in 1950,
HOPALONG CASSIDY AND THE SQUARE DANCE HOLDUP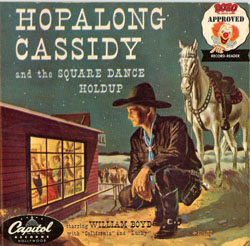 It featured the same cast of characters and was again written and produced by Alan Livingston, with music provided by Billy May.

Later on, Alan Livingston became the President of Capitol Records where he signed up Frank Sinatra, Peggy Lee, and The Beatles among others.

Other Hopalong Cassidy stories by different writers were also released on Capitol records, such as these titles: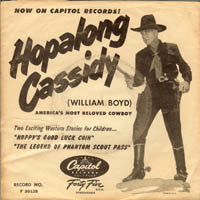 "Hoppy's Good Luck Coin" by Hamilton Richards
"The Legend of Phantom Scout Pass" by Steve Graham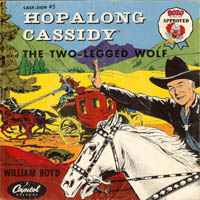 "Hopalong Cassidy and The Two-Legged Wolf" by Charles Shows

Illustrated multi-media books
Did you know there were over 40 songs featured in Hopalong Cassidy
westerns during the 1930s and 1940s?

Read about them and other fascinating facts and listen to songs in this collection by songwriter Roger Lee Hall, who met Hopalong Cassidy in New York City as a youngster in 1950. He has also appeared at several Hopalong Cassidy Festivals in Cambridge, Ohio.

The first edition and second editions of the book are now SOLD OUT.

The third edition is now available with special bonus features (music, sheet music and trailers) on a DVD-ROM readable on any computer and titled after the first song in a Hopalong Cassidy movie...

"Following the Stars" -
Music & Memories of HopalongCassidy

NEW!

This DVD, "Cowboy Songs Corral Round-Up" contains information about Hopalong Cassidy and other B-western stars, like Gene Autry, Roy Rogers, and Tex Ritter.

To read how to order your copy of this special DVD, readable on your computer, click on the link below:

Hopalong Cassidy
on
Radio and Television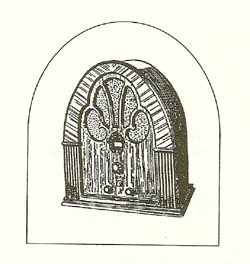 Radio


Do you remember those entertaining days when you enjoyed listening
to weekly radio programs?

Between 1949 and 1952, William Boyd as Hopalong Cassidy appeared with his friend, Bing Crosby on his radio show, as well as the George Burns & Grace Allen Show and Dean Martin& Jerry Lewis radio program.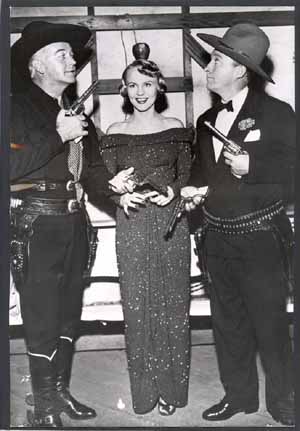 Hopalong Cassidy, Peggy Lee and Bing Crosby
Now you listen to several of these fun and festive programs
with some wonderful songs included
on a special CD-R titled:
Bing and Hoppy On Radio
December 7, 1949 (guests: Hopalong Cassidy and Peggy Lee)
December 13, 1950 (guests: Hopalong Cassidy and Peggy Lee)
April 4, 1951 (guests: Hopalong Cassidy and Dinah Shore)


Click on this button to
After you have placed your order
by credit card payable to PineTree Productions,
through safe and secure PayPal,
please mention this CD and
send your mailing address to:


On the radio program Bing and Hoppy mention making a movie together at
Paramount Pictures but unfortunately it was never made
with the two of them. Read all about it in Roger Hall's article
in HOPPY TALK (Vol. 18, No. 4, Fall 2011).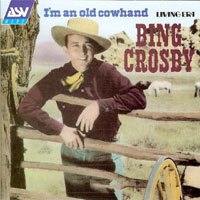 Bravo, Bing!
A Tribute to Bing Crosby
Television
Here he comes,
Here he comes,
There's the trumpets,
There's the drums,
Here he comes, Hopalong Cassidy,
Here he comes!
These lyrics are from the television theme song,
with lyrics by L. Wolfe Gilbert (1886-1970)
and music by Nacio Herb Brown (1896-1964)
Though some of the Hopalong Cassidy movies were shown earlier in Los Angeles and New York, the first NBC TV network showing was on June 24, 1949.

Entertainment writer, Susan Sackett wrote that William Boyd was

"a gambling man, he hocked everything to purchase the TV rights to the films and his character...he sold the first package of Hopalong Cassidy television episodes - edited down versions of his films - to New York's local station WNBT. They were an overnight success, and by 1950 his show ranked in the top 10...children worshipped Hoppy, and the character became the first merchandising phenomenon."

-- quoted in "Following the Stars" - Music and Memories of Hopalong Cassidy.

All of his TV shows, including 10 full length feature films, are now available on this DVD collection:
Hopalong Cassidy: The Complete Television Collection
The Hopalong Cassidy opening and closing
TV theme is included on this wonderful nostalgic CD collection: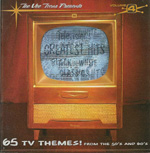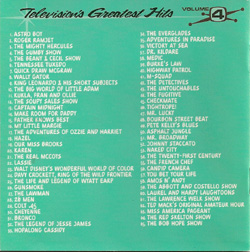 Television's Greatest Hits, Volume 4:
65 TV themes from the '50s and '60s

Hear the complete TV theme, titled "Hopalong Cassidy March,"
as recorded by Frank DeVol in 1952 on this excellent 2 CD set with many popular themes and songs, including "Hoppy, Gene And Me" sung by Roy Rogers: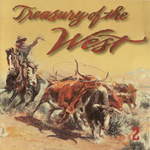 Treasury of the West, Volume 2
Read more at The Old Corral B-Westerns web page here

Books and Magazine Aricles
about Hopalong Cassidy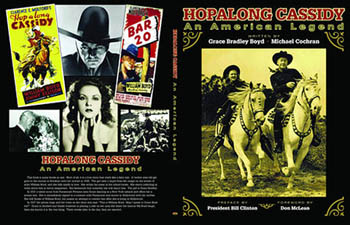 Former President Bill Clinton has written
the Preface to this lavishly illustrated book
by Grace Bradley Boyd and Michael Cochran titled,

Hopalong Cassidy: An American Legend

To read the book review
+=+=+=+=+=+=+=+=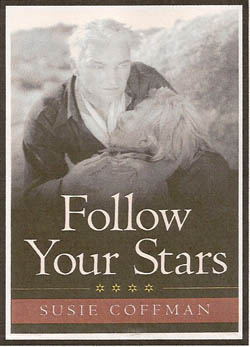 To read the book review
+=+=+=+=+=+=+=+=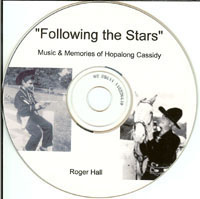 "Following the Stars"
Music and Memories of Hopalong Cassidy

+=+=+=+=+=+=+=+=
Book review of this recommended book at this link:
Jingle of the Silver Spurs:
The Hopalong Cassidy Radio Program, 1950-1952
Hopalong Cassidy in Magazines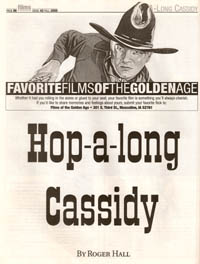 Get your copy of Roger Hall's fascinating article
on the first movie, HOP-A-LONG CASSIDY (1935)
in Films of the Golden Age (No. 42) from Fall, 2005.
Order your copy at:
The Summer 2013 issue (No. 73) of Films of the Golden Age
has a long article on William Boyd,
about his pre-Hopalong Cassidy film roles
in silent films and early talkies.
The article is "William Boyd: Before the Legend" by Diane Jarrett.
"Every kid needs a hero. Hopalong Cassidy takes the place of
Buffalo Bill, Babe Ruth, Lindy, and all the rest.
He's everything that young America admires and wants."
(December 1950)

There were many articles written about Hopalong Cassidy, especially in 1950 in Time, Life and Look magazines, when he was at the peak of his popularity.

One of the most interesting was a Christmas issue of Coronet magazine (December 1950) with an article titled, "The Inside Story of Hopalong Cassidy" by Dwight Whitney.

This is an excerpt:

"His [Hopalong Cassidy's] Saturday radio program, sponsored by General Foods, is heard on 151 CBS stations from coast to coast. His movies, the cause for all the furor, are televised from 60 stations. Last summer his second record album, Hopalong Cassidy and the Singing Bandit, sold 200,000 before issuance. During his personal appearance tour with the Cole Bros. Circus, the crowds broke all attendance records. From these various sources, Boyd stands to make well over $1,000,000 this year."

Also included in this 1950 Coronet magazine is the ...

Mrs. Hopalong Cassidy

A Tribute to Grace Bradley Boyd (1913-2010)

Hopalong Cassidy
Festivals and Reunions

2010

©


Songwriter Roger Hall was one of the speakers
at the Hopalong Cassidy Bar 20 Reunion
in 2010 in Cambridge, Ohio. It was the 50th anniversary of
him meeting Hoplaong Cassidy in 1950.

Roger introduced his new song, "The Angels Handed Me A Rose"
with lyrics by Susie Coffman

Read more at





+=+=+=+=+=+=+=+=


2009

To read about the 2009 Hopalong Cassidy Festival


+=+=+=+=+=+=+=+=

2006

Read all about the 16th Annual Hopalong Cassidy Festival

[In memory of the Dale Berry]

See the photo gallery from the 2006 Festival

+=+=+=+=+=+=+=+=

Hopalong Cassidy Fan Club

Sign up to the Hopalong Cassidy Fan Club International
and
receive the wonderful HOPPY TALK newsletter,
Laura Bates, editor/publisher
and Fred Romary, associate editor.

To join the Hopalong Cassidy Fan Club and receive the
newsletter with lots of interesting news, write to:

Friends of Hopalong Cassidy
6310 Friendship Drive
New Concord, Ohio 43762-9708


NEW!
Hopalong Cassidy Song Series
This series is written by songwriter, Roger Hall,
and featured in the HOPPY TALK fan club newsletter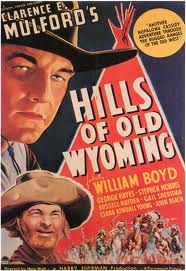 No. 1: "Hills Of Old Wyoming" (1937)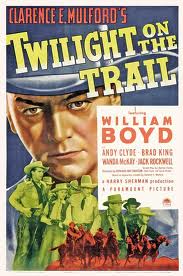 No. 2: "Twilight On The Trail" (1941)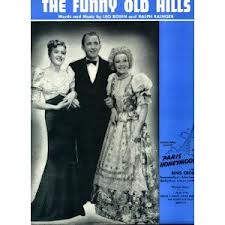 No. 3: "The Funny Old Hills"
from TWILIGHT ON THE TRAIL (1941)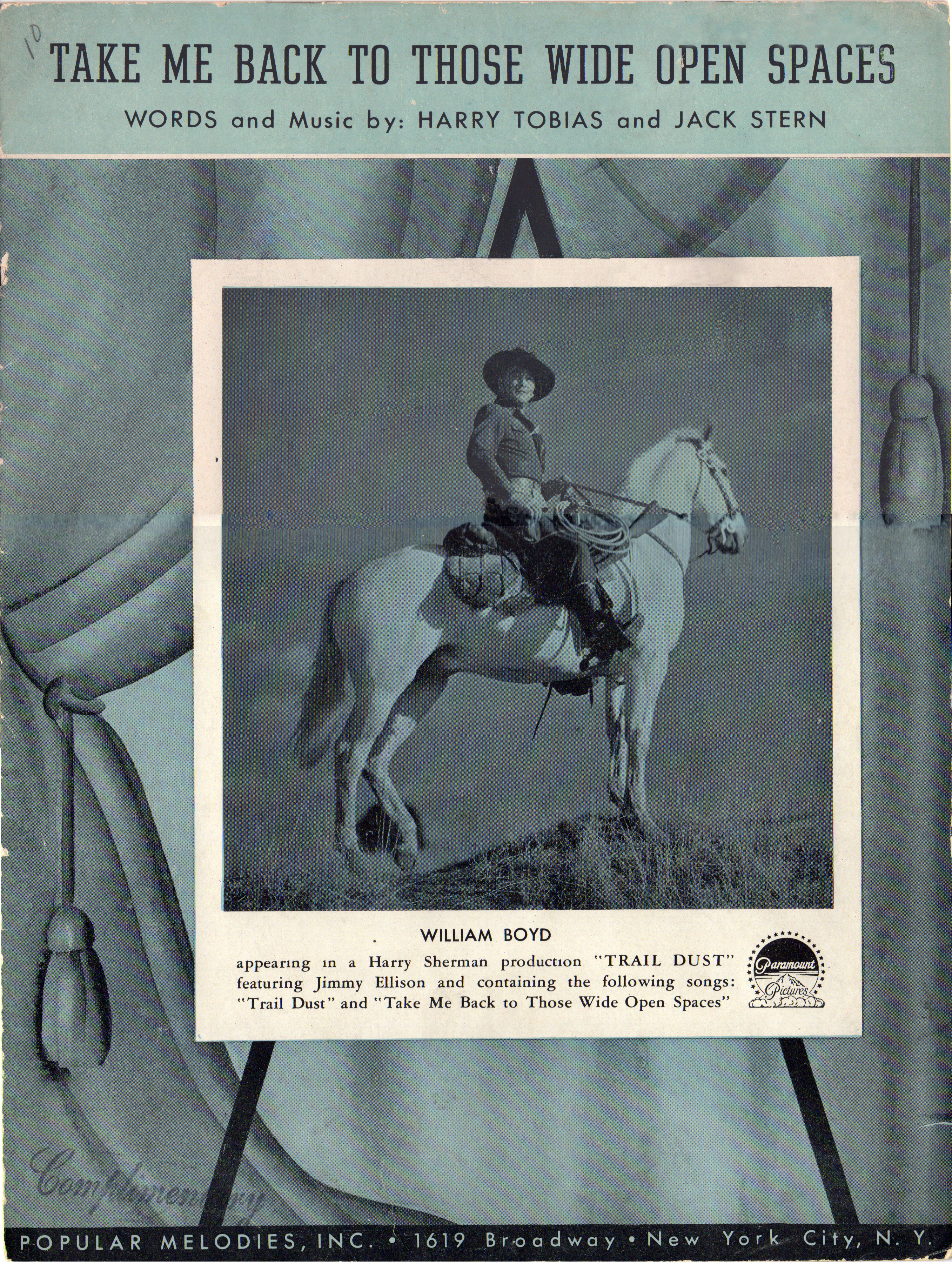 No. 4: "Take Me Back To Those Wide Open Spaces"
from TRAIL DUST (1936)
You can get copies of this series by joining
the Hopalong Cassidy Fan Club and receive the
HOPPY TALK newsletter with lots of interesting news.
To join, write to:
Friends of Hopalong Cassidy
6310 Friendship Drive
New Concord, Ohio 43762-9708

Recommended Links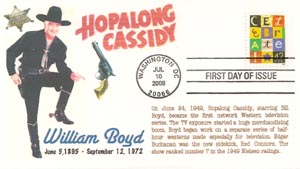 Official Hopalong Cassidy Site -- Commercial site.

William Boyd -- Wikipedia article.

"Following the Stars" - Music & Memories of Hopalong Cassidy --
multimedia book with music on CD.

Hoppy Fans - The Official Hopalong Cassidy Fan Site -- Hoppy fans welcome to join!

Hopalong Cassidy Collectibles -- Joseph J. Caro's reference guide with over 1,200 color photos.

Hopalong Cassidy Festival - information about the annual gathering of Hoppy fans and celebrity guests in Cambridge, Ohio.

Hopalong Cassidy Songs - songs from the movies and about Hoplaong Cassidy sung by Roy Rogers ("Hoppy, Gene and Me"), Roger Miller ("Hoppy's Gone") and others.

Hopalong Cassidy on YouTube -- Watch the videos about Hoppy and join this YouTube group.

Cowboy Songs Corral -- Read tributes to Gene Autry, Eddie Dean, Hopalong Cassidy, Roy Rogers and more.

The Old Corral -- Chuck Anderson's great website dedicated to B-western stars, including Hoppy.


The Silver Screen Cowboy Project -- new songs about past cowboy stars, including a new one about Hoppy.


Western Clippings -- latest cowboy news and info by author, Boyd Magers.

Dorothy Sebastian -- many wonderful photos of William Lawrence Boyd, his fourth wife Dorothy Sebastian, and his fifth wife Grace Bradley.+


+ For the record, William Boyd was married five times:

Laura Maynes in 1917

Ruth Yeager Miller in 1921

Elinor Virginia Crow in 1926

Dorothy Sebastian in 1930

Grace Bradley on June 5th, 1937 -- she married William Boyd on his 42nd birthday. They remained married until his death in 1972. Later, this beautiful lady became known and loved as "Mrs. Hopalong Cassidy." She has written her memories about her life and her late husband in the handsome illustrated book titled, Hopalong Cassidy: An American Legend
---
Please remember to credit this page!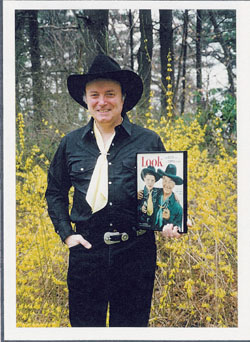 Much of the information on this page
was compiled by Hoppy fan and songwriter, Roger Lee Hall.

If you copy any text or pictures from this page
please give credit to
Hopalong Cassidy Music

www.americanmusicpreservation.com/Hoppy.htm
Thanks for riding by, pardner!

---