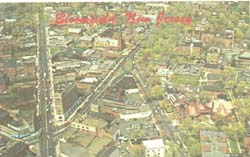 "YOU ARE MY SUNSHINE"
Memories of Bloomfield, New Jersey
by Roger Lee Hall
(PineTree Press)
The author of this memoir is a respected songwriter, music teacher, radio host, cable television producer, CD and DVD producer.

For his many distinguished accomplishments in music, Roger Lee Hall has been listed in Who's Who in America and Who's Who in the World. For more about his music career, click here.

In this first volume, he tells the story of growing up in Bloomfield from the 1940s to the 1960s. He graduated from Bloomfield High School in 1960 where he began his songwriting.

Originally written in 2006, a copy of this memoir on CD-ROM was given to the Bloomfield Public Library. It was published in a revised 2nd edition in 2011 and copies given to Bloomfield High School and the Historical Society of Bloomfield. The 3rd edition was published in commemoration of the Bloomfield Bicentennial (1812-2012), with additional information about early Bloomfield history and an expanded picture gallery.
These are the chapters in his memoir:

Prelude to 3rd edition
1. Family Picture Gallery
2. Early Years
3. Fear on the Fire Escape
4. School Days
5. Meeting Hoppy
6. Favorite Singing Cowboys
7. Leaving Home
8. The Morris Canal Caper
9. Separation and Sadness
10. High School Heartbreak
11. Songwriting and Army Service
12. Song Lyrics
About the Author

In addition to the book there are these bonus items on the CD-ROM:
Music album of favorite songs
Family and pictures from Bloomfield, NJ.
Now avilable and only at this site
on a 2 volume CD-ROM readable on your computer!




Now avilable and only at this site
on a CD-ROM readable on computer
with two books for the price of one!

Includes the two volumes of memoirs by Roger Lee Hall, plus over 100 personal photos, and two music albums with songs from the 1960s, all for just $19.95 (including Shipping - USA orders only)

Your order is payable by credit card to PineTree Productions
hrough safe and secure PayPal.


Click on this button to
After you have made your payment
and to insure proper delivey,
send your mailing address to:

Other books on computer discs
by Roger Lee Hall

"Dream World"
Songs, Poems and Stories

"Following the Stars"
Music & Memories of Hopalong Cassidy

---