Steve has done such a fine job of writing about his choices that I'll keep myself to only a list of what I considered the best of each year.

I have mixed feelings about this decade since there were more unmemorable scores than not, including a few of Steve's choices (if you want to know which ones, write to me).
Here are my choices for Ten Best Film Soundtrack CDs of the past decade, arranged by year, with links to the reviews or listing under The Sammy Awards:

As difficult as it may be, if I were forced to choose just one film soundtrack for the decade, I would pick this one:
by Steven A. Kennedy
How does one work through hundreds and thousands of scores to arrive at just one or two that were important? Do you look for what was popular? Maybe it is best to consider what was really good in a film even if no one may ever hear the music again. Or perhaps we look at our own personal preferences to see just what CDs popped up again over time in the player? There can be any number of ways to wade through the many different scores of the past decade. Some scores might be important because they were breakouts for a particular composer, but in the long run, it is music that might have a longer lasting impact on film music or even music that might just still be heard regularly in the public conscious. Re-issues and future generations will determine eventually what the really worthy musical accompaniments were and as some films fade and others are rediscovered we all may find an undiscovered treasure.
I've been writing about film music for over a decade now in various forums from print to website to blog and each year tried to wade through all the music I had heard to settle on at least 5 scores that stood out. As is often the case, many of these rarely match up with those noted during award seasons, though when the potential nominee lists are disclosed most all of the scores I felt worthy were at least among them.
Film music is also quite geographic in its appeal. What an American film music writer might find fascinating may not appeal to fans in other markets. That is why following other notices at festivals and foreign award circles always exciting. The problem is that much of that music is either not available or hard to come by anyway. Still, to come to my list (which will always change with each new perspective and with time) I decided to return to my files and first review each year's score releases and try to pull one or two scores from each year over the past decade. I compared these choices with the ones I made at the end of each year to help fine tune my "final" choices. The selections then are carefully chosen, even though they might at times seem arbitrary. I decided to bold those which seemed to be slightly more popular or which have appeared to have a bit more staying power.
2000
Dun: Crouching Tiger, Hidden Dragon
Zimmer: Gladiator
There is no denying the long reverberation of Hans Zimmer's Gladiator. It either was the most amazing thing you heard, or the bane that plagued film music for the entire decade. There is no denying its staying power and familiarity in some form. However, I would still choose Tan Dun's Crouching Tiger, Hidden Dragon as a score that really caught my attention and introduced one of many hybrid cultural scores where West and East came together in an engaging musical narrative. It is Zimmer's score though that will be remembered more I think.
2001
Shore: The Lord of the Rings: The Fellowship of the Ring
Williams: Harry Potter and the Sorcerer's Stone
The first real year of the new millennium found two composers at the top of their game writing music that should be around in some form for years to come. Howard Shore's epic scores for The Lord of the Rings trilogy is really a crowning achievement—a Star Wars score for the new millennium. Alongside his music is that by John Williams for the first Harry Potter film. Never have so many children been so enthralled by music to the point that they recognize themes from this film to this day. "Hedwig's Theme" may be one of the last tunes standing for orchestral concerts into the future when all is said and done. It helps both these scores that there was such a phenomenal success for the films as well.
2002

Bernstein: Far From Heaven
Shore: The Lord of the Rings: The Two Towers
You will see Shore's name again for 2003 as these scores are all superb and unique on their own. Elmer Bernstein's essentially last score was a great one. Too bad Far From Heaven just did not get the audience that might have enjoyed this master's finest score that recalls his masterful To Kill a Mockingbird.
2003
T. Newman: Finding Nemo
Shore: The Lord of the Rings: The Return of the King
In 2003, film music fans may have only slightly overlooked the appearance of a new composer, Alexandre Desplat. His score for Girl With A Pearl Earring finds its way into my CD player often and it was an important score to raise awareness of his talent here in the states. Shore crowned his work with great glory as he tied up every possible loose end for The Return of the King. Finding Nemo allowed Thomas Newman to introduce his unique musical accompaniment in an animated setting in a way that was quite striking and seemed to work very well.
2004
Debney: The Passion of the Christ
Giacchino: The Incredibles
Isham: Crash
This was another banner year for film music. Silvestri's music for The Polar Express might allow him to enjoy many happy residuals off the song "Believe" alone. So we will be hearing some of this music for a long time even though it probably is not the year's "best." Michael Giacchino's score for The Incredibles, with its very Barry-ish Bond sound, was really a great effort that seems to have skyrocketed him into high profile projects. Giacchino's work in video games prepared him to be the sort of chameleon that Hollywood often requires but as we are discovering, he also has a fascinating gift for thematic development and can write a pretty great action cue. John Debney's The Passion of the Christ also raised awareness of his talents and is a fascinating dramatic score to an otherwise overwrought film. Mark Isham's music for Crash, a film released the next year, is an amazing and powerful example of electronic music and sound design that superbly captured the dramatic narrative of this film. Again, it's long reaching effects may not matter, but critically speaking it deserves a spot at least on the second half of a best of a decade list.
2005

Williams: Memoirs of a Geisha
Zimmer/Howard: Batman Begins
John Williams' score for Memoirs of a Geisha was one of the most anticipated compositions of 2005 by a host of admirers. If for no other reason than its amazing orchestration, this score really stands out. Some of its themes may also find their way into a wider appreciation. I had a chance to see Williams conduct selections from this piece in Boston and was struck by how much subtlety there is in this music. On the other end, Hans Zimmer and James Newton Howard teamed up for a reboot of the Batman franchise. I struggle with including this score, but it is an intriguing meld of two musical styles that did move superhero films away from the sort of action theme driven music we were growing accustomed to in these sorts of films. There is a darkness these two composers found that managed to be even deeper than Elfman's Batman—an equally important score as well and a personal favorite. Phillipe Rombi's music for Joyeux Noel caught me completely off guard, as did this masterfully engaging film. It was a score and film I recommended to many friends that year and definitely one of those under-the-radar musical experiences.
2006
Mansell: The Fountain
Navarette: Pan's Labyrinth
Shore: The Departed
This year felt like we were in the midst of some sort of transition. The big fantasy series were off and running with more of the same musical styles and smaller dramatic scores seemed to be a worthy focus. Clint Mansell's approach in The Fountain then came as a bit of a refreshing surprise for many film music fans. Though a score I perhaps do not care for as much as I should, I think it caught the ears of many people—and likely will fade with time to be re-evaluated later. Javier Navarette seemed to appear from nowhere for the fascinating film Pan's Labyrinth. Though fans of director del Toro and Spanish film music fans already knew what a great composer he was anyway. There is something deeply fascinating and engaging in this score even though it too may fade from public memory. Howard Shore's dance-like theme for The Departed is definitely catchy and might enter into popular performance over time. The CD itself continues to be a favorite, if often overly monothematic listen.
2007

Giacchino: Ratatouille
Marianelli: Atonement
Two scores this year were critically interesting though will be more for aficionados. The first of these is Marco Beltrami's 3:10 to Yuma—a score that was hardly used in its film but which on CD gives us a great opportunity to truly enjoy the composer's melding of personal style and update on Morricone (which he had already done in The Three Burials of Melquiades Estrada in 2005). The other was the return of David Shire for Zodiac. The latter's CD release really allowed listeners to hear how detailed and intricate this score was overall. Giacchino's delightfully French-like confection for Ratatouille continues to be a favorite score of mine. He managed to write a song that actually felt like we already knew it! The music itself continued to be wonderfully engaging without being overly melodramatic. Atonement often felt like an overly-long film to me, but thank goodness for Dario Marianelli's amazing musical underscoring that continues to be an engaging listen all its own. There are moments of this score that actually make the film stronger and more moving that happen in such seemingly effortless ways that one is swept away. The reality is that neither of these two picks may ever have much staying power, but they will be important scores in the oeuvre of these composers.
2008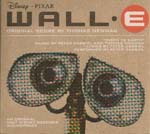 Newman, T: Wall-E
It gets a bit harder as we get to the past couple of years to think objectively about music in film. In this year, Thomas Newman's Wall-E is a standout score—even though most remember the use of music from Hello, Dolly!. Newman's score has to carry an animated film with little or no dialogue and does so without drawing much attention to itself. It also felt in this score that the composer was filling out his orchestra a bit more in the traditional sense while maintaining his unique musical voice. Others may have additional favorites here as well. The return of Indiana Jones may have had a lot of interest for fans musically, but if we are honest Williams' score for The Kingdom of the Crystal Skull while fun, and probably memorable in many respects, is a great score because he's a master composer whose been doing this sort of thing for some time. Compare the sound of this score with Raiders of the Lost Ark and you will note a lot more interesting orchestration.
2009
Giacchino: Star Trek
Horner: Avatar
The last year of the decade turned out to have a lot more interesting film music than we might have hoped. Christopher Young's score for Drag Me To Hell is probably the best horror score he's done since his Hellraiser days even if it is different. The full orchestral score here with its insistent violin solos, organ, and tri-tone musical components makes for an exciting genre listen. Nicholas Hooper's score for Harry Potter and the Half-Blood Prince is also a fine effort in the fantasy genre with a theme that apparently got cut out of the final film itself but which informed the entire score making for a more integrated and fascinating listen on its own. Marvin Hamlisch even returned to surprise us with The Informant! and some fans might have sensed the spirit of Jerry Goldsmith hanging over Beltrami's excellent score for Knowing. But as we end the decade, it is Giacchino's music for Star Trek's reboot that will likely enter the public consciousness. As will his wonderful waltz from Up. James Horner's music for Avatar will also have a longer shelf life by the sheer magnitude of people that are seeing this film, though it remains to be seen if it will capture the musical imagination beyond the current excitement. It is interesting to me that the two final picks I have come down to, at least today, turn out to be by people who feel like composers to me. That is people who utilize the latest technology but who seem to understand fully the idea of harmony, orchestration, thematic writing, and dramatic underscoring while maintaining distinct musical voices. Sometimes it is the latter that becomes our greatest expectation for new music while often serving to cause the greatest controversy or discussion among fans.
These 21 scores are for me some of the most interesting film music as well as some of the most accessible. The difficulty in coming up with such "best of" lists is that you run the risk of not choosing some people's favorite score. But for those looking to have a sampling of some of our finest film music from the past decade, few of the above suggestions should disappoint. Here's to a whole new decade of great film music!
—Steven A. Kennedy