PINETREE PRODUCTIONS
Presents…
THE MUSICAL TELEPHONE -
A Romantic Narrative in 1887

This one-act play, dramatized and directed by Roger Lee Hall, is based on a chapter from Edward Bellamy's famous 19th century futuristic novel, Looking Backward, 2000-1887, which sold millions of copies and has been translated into over twenty languages. Reportedly, it was one of the most influential books of the late 19th century.

The play was first performed at the Bellamy Centennial Conference at Emerson College in Boston, Massachusetts in 1988. In this first performance it was titled, Bellamy's Musical Telephone, and later changed to a simpler title to reflect a broader view of the ingenious telephone device described by Bellamy in Chapter 11 of his famous novel.

This play is now available for the first time on a DVD with all the music in separate files plus background information about the novel.
About the Actors
Greg Bazaz ( Julian West) has been involved with both professional and community theaters in the Boston area as well as Off-Off Broadway in New York. He appeared in the world premiere production of the musical Cyrano in Michigan, with Jose Ferrer. Greg has been both an actor and a director in theater productions and has been a host for a cable television program.

Dorothy Yanish ( Edith Leete) received a M.M. degree from Catholic University in Washington, and a B.S. degree from Indiana University of Pennsylvania. She has also studied privately in Italy and Austria. In addition to giving voice recitals throughout New England, she has been a soloist with the John Oliver Chorale and has sung with the Cantata Singers.
Music featured in the play
"Telephone Tune" -- music by Roger Lee Hall (1988)

"Prelude in G minor" -- music by Edwin Arthur Jones (1878)

"Waltz in Eb Major" -- music by Edwin Arthur Jones (1874)

"Peace" -- words by Esther Talbot (1814)/ music by Roger Lee Hall (1988)
sung by Dorothy Yanish

"Simple Gifts" (Shaker song) -– words and melody by Elder Joseph Brackett (1848), arranged by Roger Lee Hall (1988) -- sung by Dorothy Yanish

"The Dark Night is Ending" -- words by John Greenleaf Whittier (1874)/
arranged by Roger Lee Hall (1988) -- sung by Dorothy Yanish
Bonus Features
In addition to the complete play videotaped at its premiere performance in Boston in 1988, there are these bonus features on the DVD-ROM:

Information about the Looking Backward novel.

A picture gallery of telephones from the era of Edward Bellamy and later.

Audio files with all the music from the play.

Now available for the first time!
THE MUSICAL TELEPHONE - A Romantic Narrative

Order this DVD-ROM with the complete one-act play
and bonus features for only $17.95 (U.S. orders only),
by credit card through safe and secure PayPal,
payable to PineTree Productions,
and it includes Free Shipping!



Click on this button to
After you have made your donation,
to insure proper delivery,
please send your mailing address to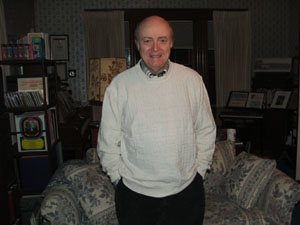 Read the interview with Roger Hall about his play at
The complete play in three scenes (audio only)
is also available on this CD

More about Edwin Arthur Jones

Read about the famous Shaker dance song, "Simple Gifts"

---