THE CITY (1939) -- documentary for New York World's Fair
Music composed by Aaron Copland.

Soundtrack re-created by Post-Classical Ensemble, Angel Gil-Ordonez, music director. Francis Guinanm narrator. Recorded at Dekelboum Concert Hall, Clarice Smith Performing Arts Center at the University of Maryland, College Park, Maryland, 15 October 2007. DVD Executive Producer: Joseph Horowitz. DVD Author: DVD Author: Oliver Clemens (K&A Productions Ltd.).
Additional special features:

George Stoney
THE CITY -- original 1939 soundtrack (43:40)
Which Playground for your Child: Greenbelt or Gutter? (2000)
George Stoney in conversation with Joseph Horowitz (2007)
Naxos DVD 2.110231

Rating: ***1/2
---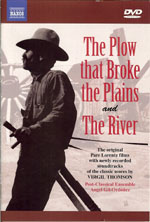 This new DVD release of a 1939 documentary is a sequel to an earlier Naxos release of two Pare Lorentz documentary classics: THE PLOW THAT BROKE THE PLAINS and THE RIVER, both with scores by Virgil Thomson, who set the framework for musical Americana in documentary films. Both are very good scores, but Copland does him even better.
THE CITY was Aaron Copland's first film score, composed for a wonderful documentary ( 43:40) which was shown at the New York World's Fair in 1939. What is not mentioned in the DVD booklet is that Copland composed another film score for that same World's Fair titled: FROM SORCERY TO SCIENCE. Both film scores are well constructed with memorable themes, but I believe that THE CITY is the better of the two.
The opening sequence, titled "New England Countryside" (7:11), is majestic and expansive like the noble New England landscapes shown in the film. This is Copland at his simplest and fits the mood perfectly of this opening montage.
Ther are several other cues that are especially memorable.
The first one is a cue titled, "Fire Engine and Lunch Counter" (5:32). The portion for the Lunch Counter sequence is particularly striking with its fast moving tempo to match the quick cuts of breakfast with eggs, pancakes, toast, rolling off like an assembly line. This is one of Copland's best early film cues and is a delight to watch in the film as well.
The second one is "Sunday Traffic" (2:38), where Copland perfectly matches the cars rolling along at a jaunjty but not very rapid pace (this is 1939 remember!) and it ends with crashing chords for --as you might guess -- a car crash. I recorded Copland speaking about and conducting this delightful cue on a televsiion broadcast back in 1969 and it is available on a special commemorative CD (not for commercial airplay) titled, Aaron Copland On Film Music.
The newly recorded Copland score on THE CITY with the Post-Classical Ensemble is top drawer, especially in the clarity of the sound. The new narration by Francis Guinan is somewhat over-the-top but still effective.
For comparison sake, there is also the original 1939 film score and narration included as a special feature. While it doesn't have the excellent sound quality of the new recording, the original film soundtrack sounds quite good for its age.

There is also a film short (15:09) on Greenbelt, an early planned community in Maryland. This is well done and fascinating to watch. It was obtained from the Greenbelt Museum.
In addition there's an interview (29:15) with documentary filmmaker George Stoney, who offers interesting views on THE CITY and also the Greenbelt movement. The comments made by the interviewer, Joseph Horowitz, come across as somewhat pompous and the seating arrangement of the two men is strange since they are facing toward the camera and not looking directly at each other. That makes the conversation seem stiff and uninvolving for the viewer.
Yet, overall this is a very good DVD with much to admire and an opportunity to hear Copland's first film score in its entirety. Up until now, the only major portion of this Copland film score was a Suite recorded by the EOS Orchestra, conducted by Jonathan Sheffer and released on a Telarc CD titled:
Celluloid Copland - World Premiere Film Music
That CD , which also includes several other Copland film scores, is first class and recommended. The same may be said for The Post-Classical Ensemble on THE CITY soundtrack. They play admirably under Angel Gil-Ordonez's skillful direction.

Naxos is to be commended for first releasing THE PLOW and THE RIVER on DVD and CD, and now for this important documentary film from a very productive era during the 1930s when much emphasis was placed on American subjects and locales.
This DVD of THE CITY is recommended to all who want to experience a valuable piece of history from America's past and also the first film score from one of the greatest composers of the 20th century.

--RogerL. Hall, 21 February 2010
Aaron Copland has been named for a Sammy Award for
Lifetime Achievement of His Film Scores