PineTree Productions Presents...

One of the largest collections of
vintage American music
with over 200 audio examples!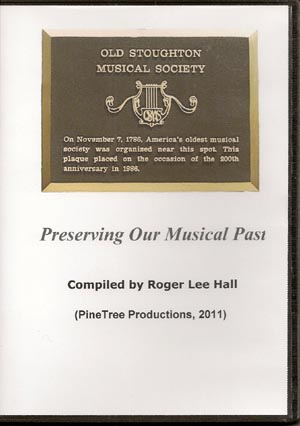 Preserving Our Musical Past
(PTM 1021)

This computer disc (DVD-ROM) was compiled and edited by Roger Lee Hall, Director of the Center for American Preservation.

It includes information about over two centuries of American music, and features Premiere Recordings of music by William Billings, Oliver Holden, Daniel Read, Oliver Shaw, Stephen Foster, Edwin A. Jones, George W. Chadwick, Charles E. Ives, and Roger Lee Hall.

The disc contains over 600 files and is readable on any computer with Microsoft Word. It also contains bonus features with audio files and videos.
The DVD is divided into 5 main topics:

I. CLASSICAL COMPOSERS

II. FILM MUSIC

III. NEW ENGLAND MUSIC

IV. POPULAR SONGS

V. SHAKER SPIRITUALS

Bonus Features:

A. 10 folders with audio files:

A CENTURY OF AMERICAN SONG, Volume I (1759-1859)

A CENTURY OF AMERICAN SONG, Volume II (1861-1961)

A CONVERSATION WITH AARON COPLAND (1980)

FIVE EARLY NEW ENGLAND COMPOSERS: Oliver Shaw, Dudley Buck,
Edwin A. Jones, Charles E. Ives, George W. Chadwick

GENTLE WORDS - A Shaker Music Sampler

LISTENER'S GUIDE TO FILM MUSIC - Soundtracks and Movie Songs

NEW ENGLAND CHORAL SAMPLER (Pilgrims to Present)

OLD STOUGHTON MUSIC SAMPLER

REMEMBERING RADIO

SHAKE, RATTLE AND ROLL - Bill Randle and Electric Elvis

B. 3 videos:

OLD STOUGHTON AND THE GRAND CONSTITUTION - celebrating the bicentennial of the Stoughton Musical Society's Constitution from 1787 --the oldest one of its kind in the U.S, with a short play and music performed by singers from the Old Stoughton Musical Society.

MEMORABLE MOVIE MUSIC - film music historian and critic, Roger Hall,
speaks about the history of film songs and scores and
presents two video clips from films of the 1940s and 1950s.

SIMPLE GIFTS - performance of the popular Shaker dance song, "Simple Gifts,"
from a concert with The Canterbury Singers, Kathryn Southworth, Director.



Now available at a reduced price!
Now you can obtain this massive collection of resource material,
with over 250 music examples (total over $250 if they were purchased separately!)
plus 3 videos (total $60 if purchased separately),

Now you can order the Deluxe DVD at a 70% discount!!

To order this multi-media computer DVD,
Preserving Our Musical Past
payable by credit card to PineTree Productions
through safe and secure PayPal.
Free worldwide shipping is included.
To order this DVD, go to the
After you have placed your order,
send your mailing address to:

Preserving Our Musical Past DVD

Other material available:
American Music Recordings Collection (AMRC)
Preserving American Music Series (PAMS)
---