National Carry A Tune Week

October 5 - 11, 2008
This is a free web event sponsored each year by The Tune Lovers Society
Thank you to all who participated in this year's survey.
This year's survey is dedicated
to the memory of singing legend,
Jo Stafford (1917-2008)
(see IV. Popular Music below)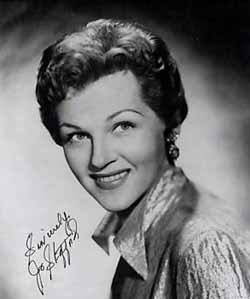 Tune Categories (click on links to read comments):
Patriotic Music = 2
Folk Music = 3
Religious Music = 3
Popular Music = 28
Classical Music = 3
Film Music (Songs and Themes) = 9
Total for 2008 = 48
---
Total selected

for

National Carry A Tune Week,

From 2001 to 2008 = 274 tunes
---

2008 Survey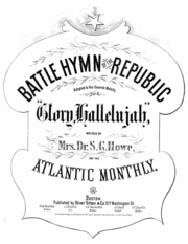 The 2008 tunes sent in are listed here by category,
with year when they were written or published, when known.

Most of the tunes on this survey can be heard on YouTube,
and were not chosen by the Tune Week contributors.

Just click on the link titles to hear the tunes.

---
"Battle Hymn Of The Republic" (1858/1862) - 150th anniversary of the first printing of the tune used for "John Brown's Body," and for the hymn written by Julia Ward Howe and published in 1862. Proably the best known arrangement is the one from the 1940s by Peter Wilhousky, as sung by the Mormon Tabernacle Choir and became a big hit in 1959. -- Roger
"Ballad Of The Green Berets" (Barry Sandler & Robin Moore, 1966) - Melissa
---
"Let The Mystery Be" (words & music by Iris DeMent, 1992) -- Gail
"Streets Of Loredo" - Mike
"Times Are Gettin' Hard" -- recorded by Harry Belafonte
on the LOVE IS A GENTLE THING LP album. -- Gail
---
"Creator God, We Give You Thanks" (words: Betty Anne J. Arner/music: Roger Hall - hymn: 1978/ anthem: 1993/ solo version, 2008) - the hymn was composed first and the anthem was in memory of a good friend and fine musician, John D. Herr. The solo version was set for vocalist and pianist and speaks to the need to respect God's natural wonders. -- Roger
"Draw Me Close/ Forever/ The Heart Of Worship" - these three songs are from the Michael W. Smith CD, WORSHIP.-- Elaine
"I Heard The Bells On Christmas Day" (music: Johnny Marks, 1956/ words: Henry Wadsworth Longfellow, 1863) -- I like the recording by Harry Belafonte the most -- Gail
---
"Abraham, Martin And John" (Dick Holler, 1968) [recorded by Dion] - in memory of three great leaders: Abraham Lincoln, Dr. Martin Luther King, and John F. Kennedy. The biggest hit was by Dion and his version is a good one but the one by Harry Belafonte is even better. -- Roger
"Autumn In New York" (Vernon Duke, 1935) [sung by Frank Sinatra] -- Steve
"Blue Moon" (music: Richard Rodgers/words: Lorenz Hart, 1934) [unusual version recorded by Elvis Presley] -- Mike

"Blue Skies" (words & music by Irving Berlin, 1927) [sung by Bing Crosby] - This song written in the 1920s must be among the most frequently performed and recorded in the decades that followed. Bing Crosby made perhaps the most popular recording and film performance. "Blue Skies" has a happy tune and optimistic lyrics, a good song to play and sing among today's economic troubles and politiical tensions -- Jim
"The Folks Who Live On The Hill" (music: Jerome Kern/words: Oscar Hammerstein II,1937) [sung by Diana Krall] -- Steve

"For Your Love" (words & music by Ed Townsend, 1958) [sung by Ed Townsend] -- Mike
"Goodbye's (The Saddest Word)"- from the Celine Dion CD, A NEW DAY HAS COME. -- Elaine

"Goodnight My Love" [recorded by Jesse Belvin] -- Mike
"Have You Ever Been In Love?" [ from Celine Dion live recording] -- Elaine

"I Apologize" (words & music by Al Hoffman, Al Goodhart, Ed Nelson, 1931) - song introduced by Bing Crosby but there was also a later hit recording by Billy Eckstine in 1951, and that was a favorite record of my recently deceased sister, Marilyn. I've chosen it in her memory-- Roger
I'll Tell The Man In The Street" (music: Richard Rodgers/ words: Lorenz Hart) - one of many fine love songs by Rodgers & Hart. The tune is less bouncy and the words less cheeky than many people regard as "typical" of Rodgers & Hart. It's a lovely song, favored by jazz singers. In 1963, Barbra Streisand gave it a terrific revival in her debut LP album. -- Jim
"I'm Alive" [from the Celine Dion video] -- Elaine
"I Got Plenty O' Nuttin'" (words: Ira Gershwin & Du Bose Heyward/music: George Gershwin from PORGY AND BESS, 1935) [sung by Cedric Cannon] -- Gail

"Jingle, Jangle, Jingle" (words: Frank Loesser/music: Joseph J. Lilley, 1942) [recorded by Gene Autry and Tex Ritter] -- Mike
"The Naughty Lady Of Shady Lane" (words & music by Sid Tepper and Roy C. Bennett, 1955)[recorded by The Ames Brothers] - Not many are being written now, but catchy and clever "novelty songs" were very popular from the early days of radio until 1960. Until the final line the song seems to be about a notorious "loose woman" just arrived in the neighborhood. Nope, it's about a baby girl. -- Jim
"A New Day Has Come" [from the Celine Dion video] -- Elaine

"Our Town" (music: James Van Heusen/ lyrics: Sammy Cahn) -- Steve

"Perfidia" (music: Alberto Dominquez/ words: Milton Leeds, 1941)[recorded by Glenn Miller and His orchestra and chorus]-- Mike
"Rain, Tax (It's Inevitable" [ from the Celine Dion CD] -- Elaine
"Right In Front Of You" [ from Celine Dion CD] -- Elaine
"Speak Low" (music: Kurt Weill/ words: Ogden Nash, 1943)[recorded by Diane Schuur] -- Mike
"Sweet Violets" (words & music adapted by Cy Coben and Charles Grean, 1951) - recorded by Dinah Shore in 1951, it was an updated folk song with funny lyrics and multiple jokes. The final word of each couplet is unexpected and takes the song's story in a new direction.
-- Jim
"Take Me Out To The Ball Game" (music: Albert Von Tilzer/ words: Jack Norworth, 1908) -- Gail

"The Thing" (words & music by Charles Grean, 1950) - sung by Phil Harris, the punch line was three drum beats: 'I discovered a (boom-ba-boom) right before my eyes." -- Jim
"Van Lingle Mungo" (music by Dave Frishberg, 1969) - it's fun to hear a song made up of only baseball player names -- Gail
"You Belong To Me" (words & music by Pee Wee King, Redd Stewart, Chilton Price, 1952) -- one of my favorite songs from the 1950s, in memory of that lovely singing legend,
Jo Stafford -- Roger
"You Go To My Head" (music: J. Fred Coots/ words: Haven Gillespie, 1938) [sung by Judy Garland] -- Mike
"You, My Love" [beautifully sung by Frank Sinatra in the movie musical, YOUNG AT HEART, 1954] -- Steve
---
"El Salon Mexico" (music by Aaron Copland, 1938) [piano arrangement played by Peter Jablonski] -- Gail
"My dareem vam nashee pyesnee/ We give you a gift of our songs" (words & music by Roger Hall) - I composed this round in Russian and English for Sharing A New Song in Boston for their choral tour in 1988. It was premiered in Waltham, Massachusetts and in Yaroslavl, Russia. It s available on the CD, COME, GENTLE PEACE. -- Roger
The Dark Night is Ending" ( words: John Greenleaf Whittier/ music arranged by Roger Hall, 1988) - I wrote this song for a play based on Edward Bellamy's famous utopian novel, Looking Backward. This song for Christmas now seems especially appropriate to today's situation in the U.S.A. and the hope people will be more positive, for as the words of the song say:
"all hearts beat as one." This song is available on the CD, The Dark Night is Ending.-- Roger
---
VI. Film Music (Songs and Themes)
"Anywhere I Wander" (Frank Loesser, 1952) [from the film, HANS CHRISTIAN ANDERSON, sung by Danny Kaye] -- Steve
"Follow The River" from the film, NIGHT PASSAGE (music: Dimitri Tiomkin/ words: Ned Washington, 1957) - a wonderful song used prominently in this western film and nicely sung by actor, Jimmy Stewart [heard on the film soundtrack]-- Roger
"Home Is Where The Heart Is" (music: Sherman Edwards/words: Hal David, 1962 - from Elvis Presley film KID GALAHAD) - a lesser known song sensitively sung by Elvis. The words by Hal David are as relevant today as they were in the 1960s, because it is true that for many, "Home is where the heart is." The music was by the same songwriter who wrote the songs for one of my favorite musicals, 1776. -- Roger
"It's A Lovely Day Today" (words & music by Irving Berlin, 1950) [in movie musical CALL ME MADAM with Vera-Ellen and Donald O'Connor, 1953] -- Steve
"Mr. Lucky" -- TV theme by Henry Mancini, 1960 -- Mike
"That's Entertainment" (music: Arthur Schwartz/ words: Hoard Dietz, 1953)[from the musical soundtrack of THE BAND WAGON] -- Steve
"There's No Business Like Show Business" (words & music by Irving Berlin, 1946)[from the movie musical of the same title, 1954 with Ethel Merman]-- Steve
"Tuesday's Theme" from the film, BACHELOR FLAT (music by "Johnny" Williams, 1962) [excerpt from film soundtrack] - featuring a lovely theme from a 1960s comedy starring Tuesday Weld, Terry Thomas and Richard Beymer, by the film composer now famous for his work with Steven Spielberg, George Lucas and other directors. There was an old LP album with "Tuesday's Theme" performed by pianist Andre Previn and I played it on a radio birthday tribute to John Williams in 1983. -- Roger
"You're Just In Love" ( words & music by Irving Berlin, 1951, from the movie musical, CALL ME MADAM) - sung by Donald O'Connor and Ethel Merman -- Steve
---

Seventh Annual Carry A Tune Week (2007)
---
Sixth Annual Carry A Tune Week (2006)

---

Fifth Annual Carry A Tune Week (2005)

---

Carry A Tune Week (2001-2004)

---

---

Tune Lists and CDs:

100 Essential Songs (1861-1961)

50 Essential Songs (1759 - 1859)

Centennial Tributes:

Leroy Anderson (classical-crossover composer)

Gene Autry (western singer-songwriter)

Eddie Dean (western singer-songrwriter)

Miklos Rozsa (film composer)

James (Jimmy) Stewart (actor, singer)

---

Help support this annual tune week survey.

Click on these links to order your music:

American Music Recordings Collection

---

If you wish to be on the mailing list for the annual Tune Week, send your full name, city or town (optional), and email address to:

---

Help support the mission to preserve American music by

The Tune Lovers Society

Order your purchases from this search box...

---