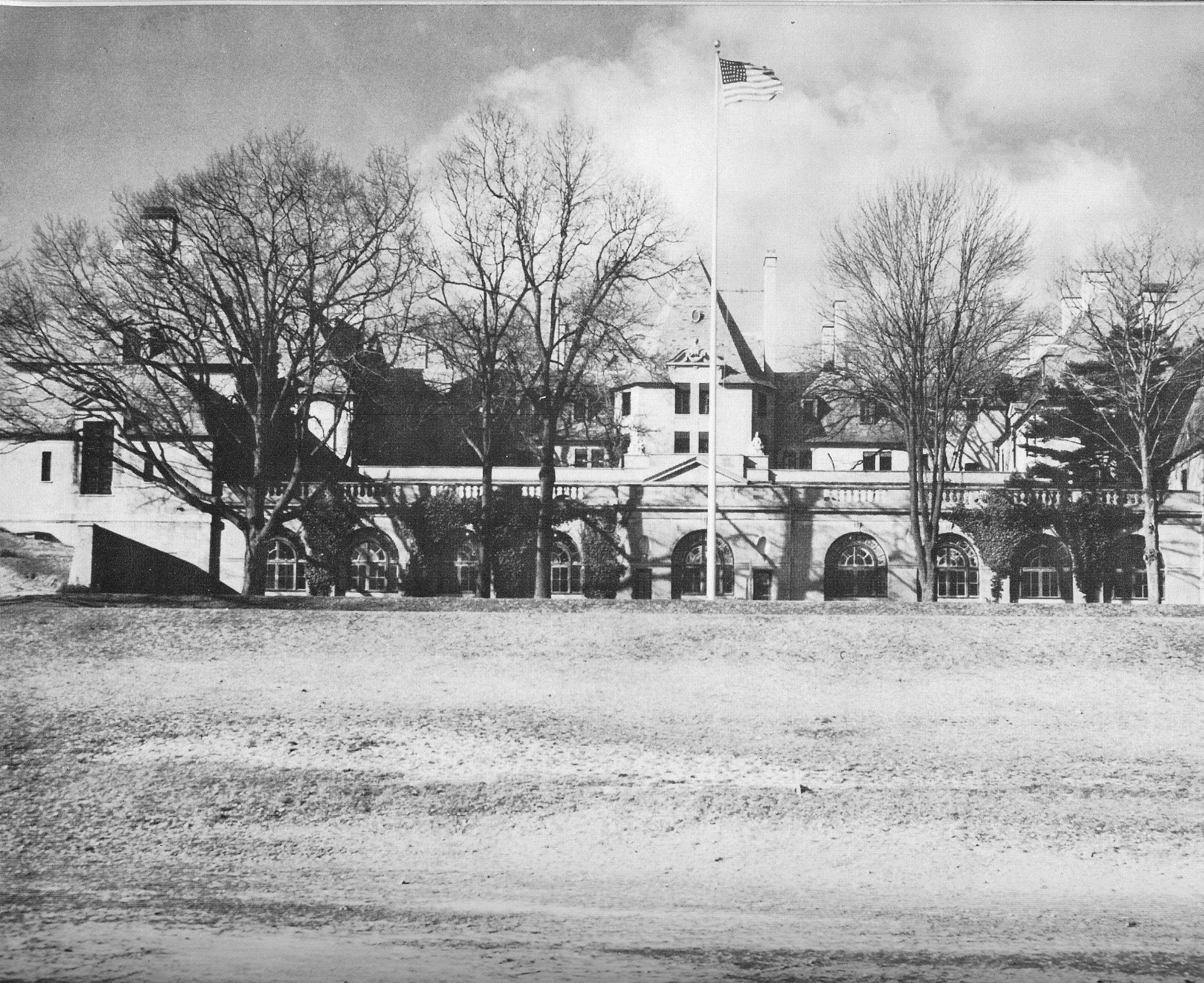 Memories of OHEKA Castle



---

Help support the educational mission of this web site

Use this Search Box for your purchases from Amazon.com

---

Otto Kahn and OHEKA Castle



Portrait of Otto H. Kahn (1867-1934)
(from NNDB )

He named his dream castle: "OHEKA" after the initials of his full name (O=Otto/ HE=Hermann/ KA=Kahn).



OHEKA castle was completed in 1919. It originally had 127 rooms
and occupied 109,000 square feet of space, making it the second largest private residence in the United States (after the Biltmore Estate in North Carolina). It was also the largest residence built in New York StateI A few quick shots of OHEKA were included in the opening newsreel shown in the classic film, CITIZEN KANE.

Roger Wolfe Kahn and His Orchestra

Otto Kahn's son, Roger (1907-1962), was a talented musician in the 1920s and 1930s. He played many instruments and was a young jazz band leader and songwriter.

One of the songs he co-wrote with Irving Caesar and Joseph Meyer was "Crazy Rhythm," a big hit in 1928. Listen to Roger Wolfe Kahn and His Orchestra playing this hit song at YouTube

Read more about Roger Wolfe Kahn at Wikipedia
Eastern Military Academy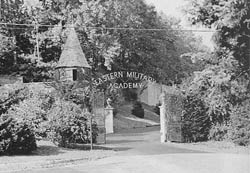 This article originally appeared in the 2004 OHEKA Garden Journal
and is reprinted here with some revisions for
Roger Hall's 60th anniversary of
first attending Eastern Military Academy.
When I first arrived there in September of 1952, I knew immediately that it was going to be a very special place.

I was attending Eastern Military Academy (or EMA). I didn't know it when I went to school there, but that was actually a castle built by a wealthy banker with Kuhn, Loeb & Co. in New York. He was Otto Hermann Kahn.

At EMA they mistakenly told us it had been built by the playboy, Aly Kahn,
who was once married to movie actress, Rita Hayworth. It was many years later before I learned it was Otto (not Aly) Kahn who had built this magnificent castle.

I was pleased to see Otto Kahn's castle briefly in the newsreel footage at the beginning of the film classic, CITIZEN KANE, one of my all-time favorite films and considered by many to be the greatest Hollywood film. I first watched the film on WOR-TV in New York in the 1950s and knew even then it was a great film and was thrilled to catch a brief glimpse of my EMA home.

The castle was not so luxurious when I arrived there in 1952, but it was still impressive. It had a well worn cobblestone courtyard like some old European town. Kahn was originally from Germany, but his castle was modeled on French chateau models.

After EMA went bankrupt, the castle was unoccupied and vandals took over and caused almost total destruction.

OHEKA Rises Again

Fortunately, it was purchased in 1984 by an industrious developer, Gary Melius, who could see the value of restoring Otto Kahn's jewel of a castle.He began restoring it and after years of careful restoration work and millions of dollars spent on labor and materials, the castle itself is now restored again and shines like a beautiful jewel.

This is how the entrance courtyard looks after the restoration..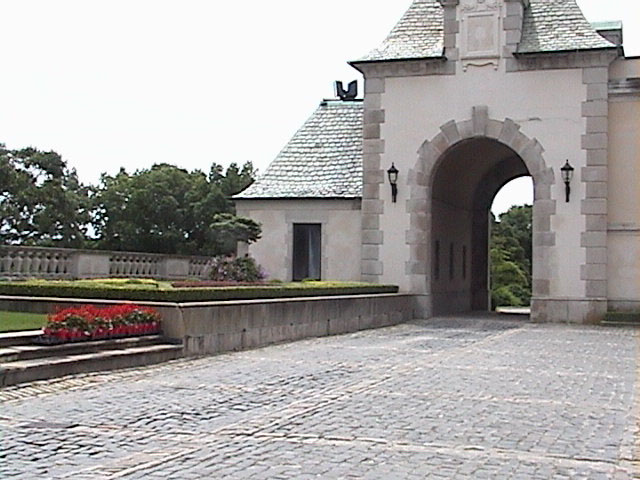 Here is the magnificent swirling staircase in the entrance foyer,
modeled after the one at the Chateau Fontainbleu in France...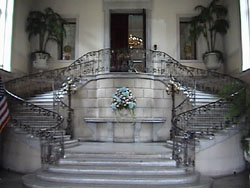 and long straight hallways from the EMA days...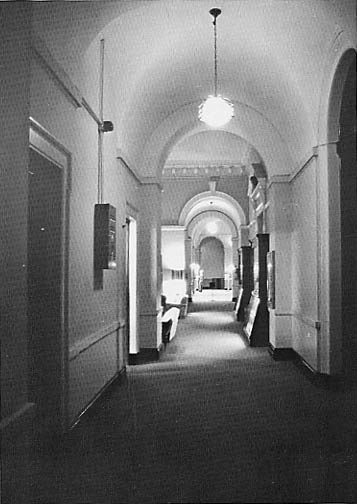 During the time I attended Eastern Military Academy in the 1950s, many of the young cadets were afraid to walk past the wind tunnels in the basement on the way to the canteen. The tunnels were dark and mysterious and made an eerie, whistling sound. It was quite spooky, like a haunted castle in a horror movie.

The fountains outside did not have any water in them and many of the ornamental statuary were cracked or missing pieces. Weather permitting, each morning we met to pick up any trash on the terrace grounds at the side and rear of the building just before we had breakfast. EMA did try to keep the place neat and clean but it wasn't easy with such a massive building to maintain.

This 1999 photo shows the room where I lived while an EMA cadet, before undergoing restoration: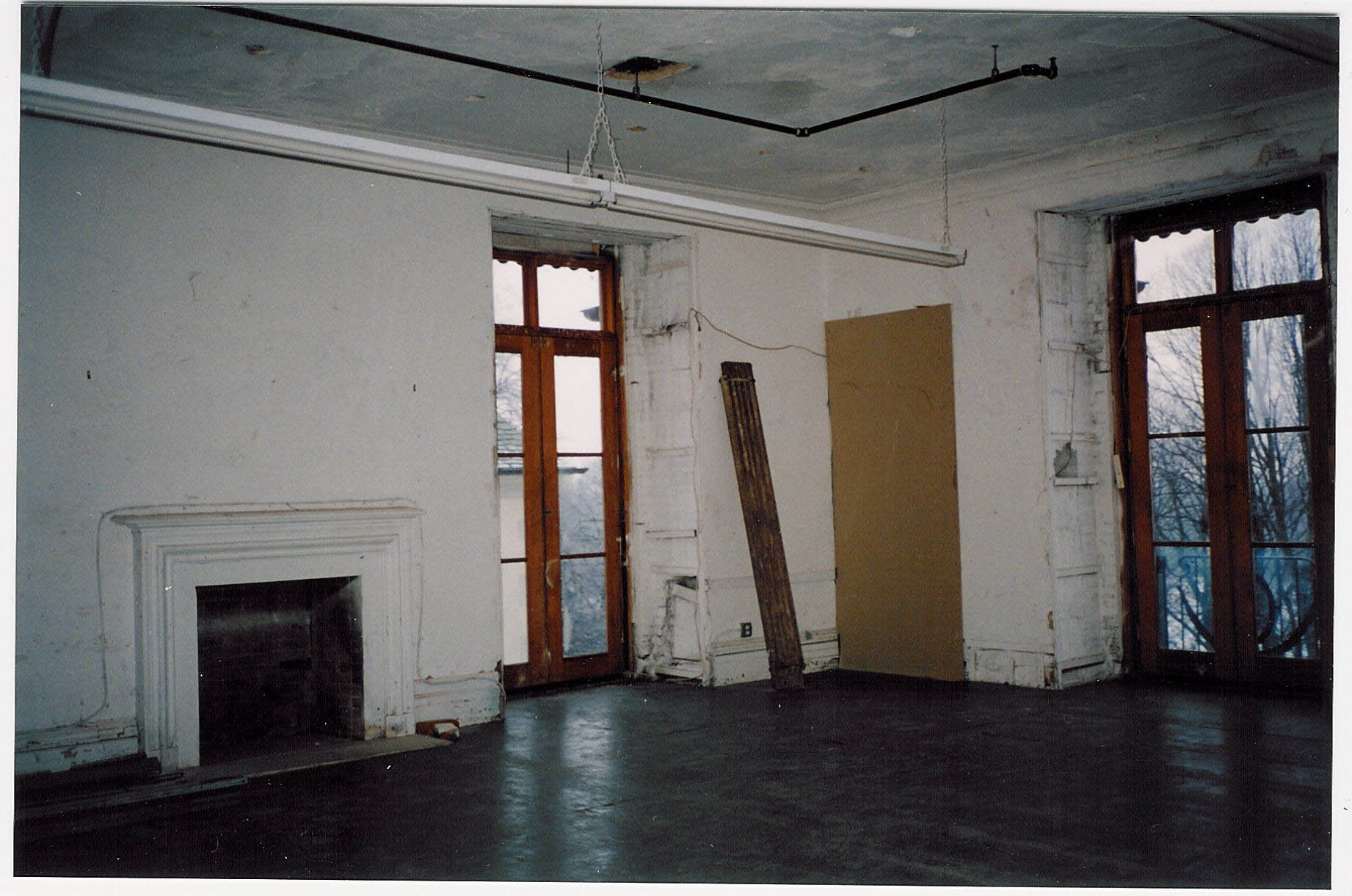 Here is that same fireplace in a beautifully restored room of the castle: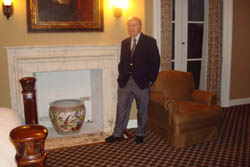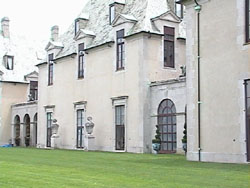 My room during my first years at EMA was right above the Main Ballroom. The photo shows the outside rear facade and my room was where the third large window on the second floor is located and also the window around the corner. I loved that room. It had such a great view of the surrounding grounds, including the neighboring golf course.

Unfortunately, after EMA went bankrupt in 1979, almost total destruction was done by young vandals, who set many fires inside the rooms and broke all of the windows.

It was burned and broken but the castle refused to die.

That's because Otto Kahn had made sure it was built extremely well. He had it constructed so it was fireproofed, with walls over three feet thick and using reinforced steel and concrete materials.

For over twenty years the restoration of OHEKA has been taking place. This photo shows a section of my favorite room there -- the restored OHEKA Library with a beautiful grand piano.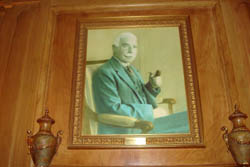 The Library was also the favorite room of the castle's original owner, Otto H. Kahn, whose portrait hangs there in a place of honor.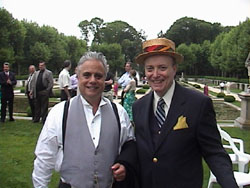 Fortunately, thanks to the efforts of
the owner and developer Gary Melius (shown in gray vest), the castle now looks much better than when I attended EMA there.

In 1954, our room supervisor was Mr. Lewis Brody, who was also our history teacher. In my yearbook, he wrote: "To my bright Jolly One." That's what he called me because I smiled so much and was so interested in learning. What he didn't know was I wanted to be at that safe and secure school. I had just lived through a painful separation of my parents so I was glad to be away at school.
Since it was a military academy, there were many drills and parades. I loved marching to the snappy tunes played by the very good EMA band, under the direction of Mr. Felix Sangenito. My favorite piece was E.E. Bagley's "National Emblem March." For the next few years I would spend many happy hours learning, thanks to teachers like Mr. Brody and Mr. Duncan.

Most important to my later music career, I did my first singing while at Eastern Military Academy. I joined the Lower School Glee Club in 1954, which was the first year they had one for us youngsters. The director was Mr. Willard Young. I remember performing in a variety show which featured a medley of Irving Berlin songs, among them were "This is the Army" and "Oh, How I Hate to Get Up in the Morning."
Many years later, in 1988, I did a 100th birthday radio tribute to Irving Berlin. I played "Oh, How I Hate to Get Up in the Morning," as sung by the songwriter himself. The radio host commented how much fun it was to recall the song when trying to get up in the morning. This song is the title of a chapter from my memoir, now available on the DVD titled, MEMORIES OF OHEKA.

That song title was true for us EMA cadets as well -- Oh, how we hated to et up so early in the morning!

But oh, how much I loved living in Otto Kahn's magnificent castle!

I've never forgotten those wonderful years spent at Eastern Military Academy and offer my EMA cadet military salute of gratitude...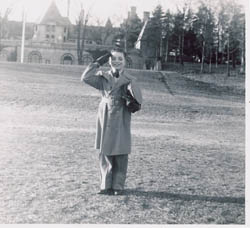 "What you are to be, you are now becoming."



--by Roger Hall, June 2012


For more about OHEKA Caste and Eastern Military Academy, see the DVD:



OHEKA Garden Party

Celebrating The 20th Anniversary of the Restoration of OHEKA Castle
(1984 - 2004)

Sponsored by the Friends of OHEKA Castle
June 10, 2004

Theme: The Roaring Twenties

Hosts: Otto and Addie Kahn
(portrayed by Gary and Pam Melius)


The Kahn's Special Guests:

New York Governor Al Smith
(portrayed by William Naughton)

Grace Moore
(portrayed by Jo-Ann Raia)

Mary Astor
(portrayed by Susan Berland)

Fred Astaire
(portrayed by Roger Hall)

The Great Gatsby
(portrayed by Mark Cuthbertson)





Anne Kahn Baugh (a Kahn descendant)
with singer Roger Hall, who portrayed Fred Astaire
and sang several Gershwin songs
at the 2004 OHEKA Garden Party











Message from Frank L. Scalia,
President of the Eastern Military Academy Alumni Association...


"Thank You! Gary and Pam Melius and Friends of OHEKA for restoring our former home, Eastern Military Academy. We occupied the Castle the longest, from 1948 to 1979. Our proud members appreciate your efforts to maintain and promote the heritage of Eastern Military Academy!"

For more information see

Eastern Military Academy Alumni Association

R.I.P. Frank L. Scalia, 1937-2015


Multimedia Disc Available


Read how to get your copy of this multimedia computer disc with
many pictures and music from Otto Kahn's era by clicking this link to

Also available with a story about Eastern Military Academy is this mutlimedia disc by the same author...

"Dream World"
Songs, Poems and Stories by Roger Hall

Resources and Credits

For further information, click on this link for

Also recommended are these books:

Images of America: OHEKA CASTLE - an illustrated book by Joan Cergol and Ellen Schaffer. Arcadia Publishing, 2012. Foreward by Nelson DeMille.


OHEKA CASTLE: Monument to Survival - The Story of the Largest Restored Home in America - a magnificent 292 page beautifully illustrated book by Ellen Schaffer and Joan Cergol. Introduction by Nelson DeMille (2008).

Note: Roger Hall and Frank Scalia and their EMA memories are mentioned prominently in Chapter 4 of this illustrated book: "Eastern Military Academy - What You Are To Be You Are Now Becoming, 1948-1979."

Otto the Magnificent: The Life of Otto Kahn - by John Kobbler and the best biography about OHEKA's first owner (1988)

See also biographical information on

Unless otherwise indicated, the photos on this page are
from Eastern Military Academy yearbooks and those taken by Gail Hall.

For any comments or questions, write to:

---

Help support the educational mission of this web site

Use this Search Box for your purchases from Amazon.com

---